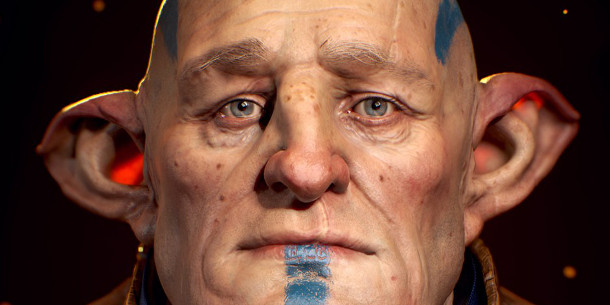 Image: Magdalena Dadela.

Allegorithmic has released Substance Painter 2.5, the latest version of its 3D texture painting software, adding new opacity controls for brushes, LUT-based colour management, and a new custom shader API.
The update also implements several of the features recently introduced in sister application Substance Designer 6, including text support and the option to bake 8K and non-square textures.


New Opacity control for brush strokes
One long-awaited feature in Substance Painter 2.5 is the new Opacity setting for brushes.
It works in the way you'd expect (above, left), although there is also a neat option not to let strokes multiply where they overlap, resulting in a single, continuous semi-transparent stroke (above, right).
LUT-based colour management, support for parallax occlusion mapping
For artists aiming to match the look of a film or game project, the Post Process tab now features an option to apply custom colour-management look-up tables (LUTs).
The software's shaders have also been refactored, with support for parallax occlusion mapping added to the default PBR shaders, along with support for dithered transparency.
New API options for technical artists
There is a new API for authoring custom UIs for shaders, enabling technical artists to control which parameters are exposed in the shader's interface.
The scripting API has also been updated, including the option to write custom metadata, and to write and retrieve shader parameters as JSON files.
Support for features from Substance Designer 6
Substance Painter 2.5 also adds support for some of the new features introduced in Substance Designer 6 last week, including the new Text node and the option to bake 8K and non-square textures.
According to Allegorithmic, the software "now supports all the nodes made with Substance Designer 6".
Pricing and availability
Substance Painter 2.5 is available for Windows 7+, CentOS 6.6 or Ubuntu 12.4 Linux and Mac OS X 10.10+.
The update also officially introduces support for AMD's Radeon Pro and older FirePro workstation GPUs. AMD gaming GPUs are also supported, along with all of Nvidia's recent cards.
New Indie licences of the software, intended for artists and studios earning less than $100,000 per year, cost $149; full Pro licences cost $590. The update is free to registered users.

Read a full list of new features in Substance Painter 2.5 on Allegorithmic's blog
Tags: 8K, AMD, API, baking, color management, FirePro, GeForce, JSON, LUT, metadata, new features, NVIDIA, opacity, parallax occlusion mapping, price, Quadro, Radeon Pro, scripting, shader UI, Substance Designer 6, Substance Painter, Substance Painter 2.5, text node