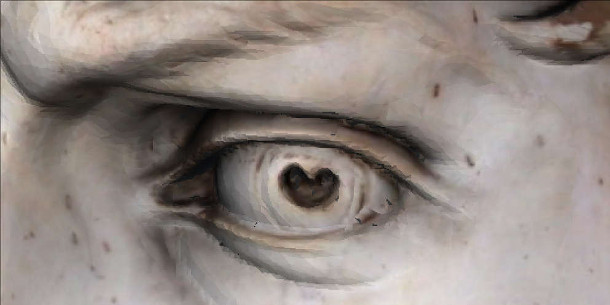 Open-source mesh editing toolkit MeshLab has received its first update in "a very long time", rewriting the internal renderer and adding support for direct export of models to Sketchfab.
The release is officially titled MeshLab 2016, but don't let the date fool you: it came out just before Christmas, so it's less than two weeks old.
A complete set of tools for editing and printing 3D scan data
First created in 2005, and currently developed at Italian research institution ISTI, MeshLab is a complete toolset for editing, cleaning, inspecting, rendering and converting triangular meshes.
Although primarily used for scientific research and conservation, it has a robust set of features for preparing 3D scan data for rendering or 3D printing.
As well as importing meshes generated in photogrammetry applications, the software provides a range of algorithms for surfacing point clouds generated by active 3D scanners.
Surface colour can be represented either as vertex colours or texture maps, with a range of Photoshop-like filters (gamma, saturation, brightness, and so on) to adjust the results.
The software also provides tools for generating point-to-point measurements or polyline cross sections from imported models, or mapping geometric differences between models.
MeshLab also provides a range of tools, both automated and manual, for cleaning raw scan data, decimating meshes, and preparing models for 3D printing, including options to hollow meshes or make them watertight.
Files can be exported in a range of standard formats, including OBJ, Collada, STL and PLY.
New in MeshLab 2016: updates to rendering and surface reconstruction; direct export to Sketchfab
To that, MeshLab 2016 adds the option to export models directly to popular online portfolio site Sketchfab.
The update also features a "total" rewrite of MeshLab's internal renderer, promising a "huge" increase in render speed; plus updates to the surface reconstruction and transformation systems.
You can see a full list of changes on the MeshLab website, which has also received its own facelift.
Availability and system requirements
MeshLab 2016 is available under a GPL open-source licence. Compiled binaries are available for 64-bit Windows and Mac OS X; Linux users can compile their own versions from the source code.
Versions of MeshLab are also available for iOS and Android, along with a browser-based implementation, although at the time of posting, only the desktop version has been updated to MeshLab 2016.

Download MeshLab 2016 from the product website
Tags: 3D printing, 3D scanning, Collada, decimation, download, free, ISTI, measurement, mesh cleaning, mesh editing, mesh preparation, MeshLab, MeshLab 2016, OBJ, open source, Photogrammetry, PLY, point cloud, rendering, scan data, STL, triangular mesh, visualization