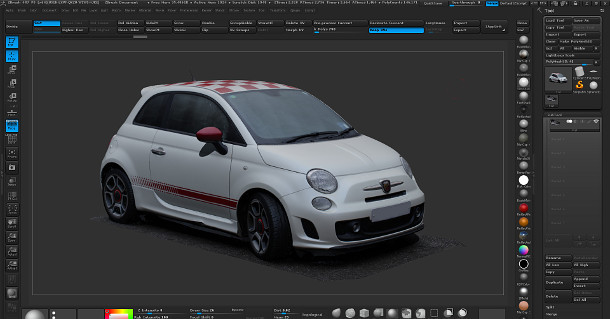 Ten24 has released a free 3D scan of a Fiat car as part of a new article on recreating vehicles with photogrammetry, posted on the firm's 3D Scan Store site.
Created using PhotoScan and a single DSLR camera
The scan was created two years ago, using a single DSLR camera and Agisoft's PhotoScan software, as part of the studio's first attempt to recreate a car.
Ten24 deliberately picked the most challenging model it could find – pure white, with decals – to test its workflow for scanning reflective surfaces.
According to the studio: "The aim was to get close to laser scanner quality without destroying the car or without spraying the entire thing with expensive and hard-to-remove matting powder."
"Since this test our techniques have improved considerably and we are now able to scan with around three times the resolution of the free example."
Ten24 plans to release a follow-up tutorial setting out its new techniques next year.
Download details
The scan model is provided in both OBJ format and ZBrush's native ZTL format – you'll need ZBrush 4R7 or above to open it.
It comes with a 10k texture map, although that's really there for completeness: Ten24 notes that in most cases, you'll need to rework the asset using shaders for the glass surfaces.
The model is licensed for commercial use, but you'll need to obtain the relevant rights from Fiat first.

Read Ten24's tutorial on 3D scanning cars using photogrammetry
Download the free 3D scan of a Fiat car from Ten24's 3D Scan Store
Tags: 3D scan, 3D Scan Store, car, commercial use, download, Fiat, free, OBJ, Photogrammetry, PhotoScan, Ten24, with textures, ZTL