Tuesday, October 11th, 2016

Posted by Jim Thacker
Next Limit ships Maxwell 4

Originally posted on 18 August 2016. Scroll down for news of the commercial release.
Next Limit has unveiled Maxwell 4, the next major update to its physically based renderer, making relighting system Multilight a standalone application – and adding support for GPU rendering.
A CUDA-based GPU implementation of Maxwell's CPU tech
So far, Next Limit has only posted an outline of the new features, so we don't have much info on the new GPU render engine, beyond the fact that it's CUDA-based, and that it's feature-equivalent to the CPU engine.
According to Next Limit: "All the technology under the hood is identical to the classic CPU engine."
GPU support represents a big change for Maxwell: previously, even its Fire render preview was CPU-based, with Next Limit preferring to support all the functionality of the final-quality render engine rather than adopting V-Ray's approach of providing a GPU-accelerated preview supporting a restricted set of features.
Updated 11 October: Actually, there are differences between the CPU and GPU render engines. You can find more details at the foot of the story.
Multilight becomes a standalone relighting tool
There's a bit more information about the standalone version of Multilight, in the shape of the video above.
A popular existing feature of Maxwell, the system stores the contribution from each light-emitting material in a scene as a separate buffer in the scene file, enabling users to tweak settings during and after rendering.
The system increases scene file sizes and the RAM required to generate a render, but not render times.
New materials gallery and CAD plugins
Other new features in Maxwell 4 include an updated materials gallery, featuring a "hand-picked selection of … optimised Maxwell materials" ready to use in scenes.
As well as searching by standard tags such as material type, Next Limit says that it will be possible to search by "performance level", which suggests that it will be possible to control scene render times more actively.
The update will also introduce a new plugin live-linking Maxwell and Rhino for Mac, and update the renderer's integration with Revit.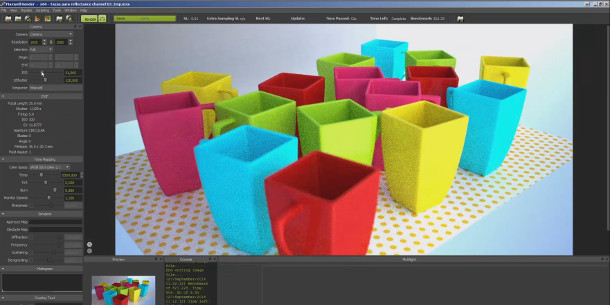 Updated 11 October 2016: Maxwell 4 is now shipping for Windows, Linux and Mac OS X.
Next Limit has also revealed more information about the new GPU render engine, including a new demo video (it isn't embeddable, but you can see it here) and a feature comparison table with the CPU renderer.
The two are broadly equivalent, but the GPU renderer lacks a number of features, including support for the Shadows and Deep custom alpha render channels, the Physical Sky, the Pinhole camera, and Maxwell Grass.
In addition, it doesn't support Multilight; and the comparison table also lists it as not supporting interactive rendering – although that may be a typo, given the video actually shows it being used with Fire.
Updated 13 October: It is a typo, as were the entries for the Physical Sky and the Pinhole camera. Next Limit has confirmed that all three are supported by the GPU renderer.
The GPU engine doesn't work with OS X – unsurprisingly, given that it's based on Nvidia's CUDA API, and that Apple uses AMD GPUs in its current-gen Mac Pros – but it does support network rendering.
You can see a development roadmap here covering the missing features, along with extra functionality like multi-GPU support and support for CPU and GPU running at the same time.
Pricing and availability (Updated 13 October)
Next Limit has also updated Maxwell's pricing structure. The standalone edition of the software, Maxwell 4 Studio, now costs $595 for a node-locked licence or $795 for a floating licence.
Rather than providing all the integration plugins for DCC applications separately, Next Limit is now supplying most of them as part of application-specific product bundles.
If you want one of the editions for individual 3D software packages, the SketchUp, form.Z and Rhino for Mac versions are priced identically to Maxwell 4 Studio.
The other editions – including 3ds Max, Cinema 4D, Maya, Modo and Rhino for Windows – cost a bit more: $795 for a node-locked licence, and $995 for a floating licence.
Anyone upgrading from a previous version of Maxwell gets two of the new editions.
The Photoshop, Nuke and After Effects plugins are still provided as free downloads, but several others, including Softimage, Houdini and LightWave, have been discontinued.
To judge from the early comments on Next Limit's blog post, the change has not been popular with existing users, particularly those who previously used multiple plugins.
Multilight is now a free download for Windows, Linux and Mac OS X.

Read more about new features in Maxwell Render 4 on the product website