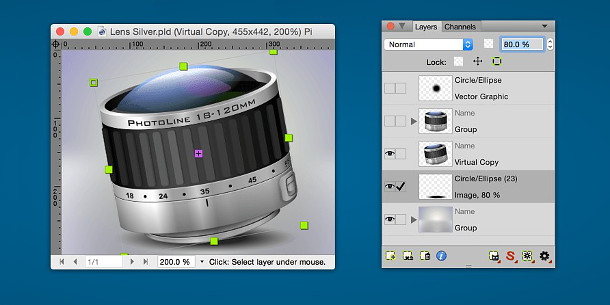 Computerinsel has released PhotoLine 19.5, the latest update to its sub-$100 image-editing tool, touted by many fans as a serious alternative to Phososhop for professional graphics work.
The update further improves PhotoLine's support for Photoshop's PSD file format, adding support for Smart Objects; and extends its Placeholder layer workflow for interpoerability with other applications.
Support for Smart Objects and adjustment layers in PSD files
Arguably the most significant change in PhotoLine 19.5 is its improved support for the PSD file format. The software can now import Photoshop Smart Objects, which remain editable within PhotoLine.
According to a post by user Herbert van der Wegen on CGTalk, all of Photoshop's adjustment layer types are now supported, aside from Photo Filter; as are vector masks, fill layers and layer effects.
Improved file import and file referencing
Import of PDF, SVG and EXR files has been enhanced – according to van der Wegen, PhotoLine supports multi-layer full-float EXR files – and the software can now use colour data embedded in camera EXIF data.
The Placeholder Layers workflow introduced in PhotoLine 19.0 – which enables users to reference the contents of external files – has been extended, with the option to embed the external data within a PhotoLine document.
If a placeholder layer is edited with an external application, PhotoLine will transfer the original data of the placeholder layer to that external application.
There are also a lot of UI and workflow changes, including automatic pixel snapping, which you can read about in the update notes.
Pricing and availability
PhotoLine 19.5 is available now for Windows and Mac OS X, price €59 (around $65). The update is free to registered users.
Read a full list of new features in PhotoLine 19.5 on the product website
Tags: 3Dflow, Adjustment Layer, cheap, Computerinsel, EXIF, file referencing, illustrator, image editing, layer effects, low-cost, PhotoLine, PhotoLine 19.5, Photoshop, placeholder layers, PSD, Smart Object, SVG, vector mask