Wednesday, September 10th, 2014

Posted by Jim Thacker
Computerinsel releases PhotoLine 18.5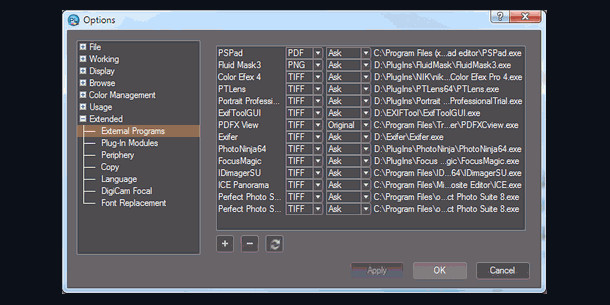 PhotoLine 18.5 improves workflow between the image-editing tool and other graphics apps, including the option to use external packages to edit either the contents of an entire document or the active layer.
Computerinsel has released PhotoLine 18.5, the latest update to the sub-$100 image-editing tool that some fans claim is a serious alternative to Photoshop.
Improved vector editing, assorted other new tools
The update enhances PhotoLine's vector-editing toolset, including a new Cut tool: effectively a Boolean subtraction operation that divides one vector layer into two new ones.
There are also new options for aligning layers automatically; a new Polar Coordinates filter for creating the 'tiny planets' images familiar from photo-stitching tools; and automatic smoothing for brush strokes.
There are also a lot of other smaller changes, which you can read about on Computerinsel's website.
Better interoperability with other software
But arguably, the most important changes for professional graphics work affect connectivity and workflow.
The option to use external tools to edit the contents of a document has been extended, letting users choose whether other apps edit the entire document, or only the active layer; and to set the interchange file format.
Layer selection workflow has also been streamlined, including the option to multi-select layers across groups.
Pricing and availability
PhotoLine 18.5 is available now for Windows and Mac OS X. It costs €59 (around $75).