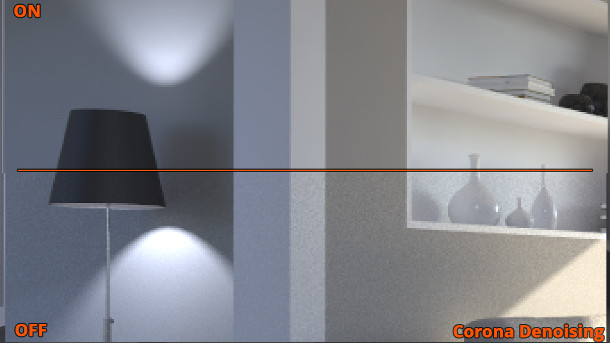 Render Legion has posted details of some of the features planned for Corona Renderer 1.4 for 3ds Max, the next release of its CPU-based production renderer, including adaptive image sampling and denoising.
The announcements form part of a long blog post on the company's plans for 2016, alongside details of a new 'Corona Academy' training program, and details of the upcoming Cinema 4D and SketchUp editions of Corona.
Coming up in version 1.4: adaptive image sampling, denoising, improved performance
The first of the new features to be named is adaptive image sampling. Although the post doesn't go into any specifics, it's essentially a means of arriving at the same final image quality in a shorter time.
(For comparison, Chaos Group has a discussion of how V-Ray's own adaptive sampling systems work here.)
The other new feature to be announced is a new denoising algorithm (shown above): very much the flavour of the month, given the inclusion of similar systems in RenderMan and new standalone tool Altus.
In those applications, at least, users generate fast, noisy raw source renders, then denoise them to achieve the desired image quality: a process faster than allowing the image to resolve to the same point unaided.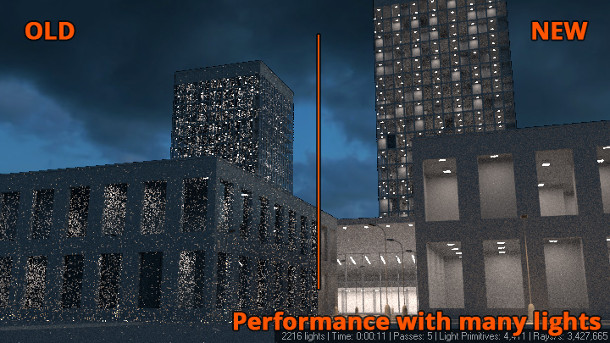 In addition, Render Legion's blog post cites improved performance on scenes with hundreds of lights – the performance boost isn't quantified, but you can see a test image above – and a new VR camera.
In version 1.4, that just means the option to render 360×180 stereo panoramas, but Render Legion notes that it "would like to a dig even deeper into this" in future.
New Corona Academy instructor certification program
In addition, the company has announced Corona Academy: a new educational program for "lecturers, tutors, and hard-core power users" leading to a 'certified tutor' status similar to that available for V-Ray.
The Corona Academy will start as an offline event in Prague, then roll out to other European countries and the US, and eventually online.
Cinema 4D edition due this year, SketchUp later, Maya on hold
The blog post only touches briefly on the other versions of Corona, but it does say that the Cinema 4D edition is due for release in the third quarter of 2016, along with the first public alpha of a SketchUp edition.
Sadly, the proposed Maya edition is on hold pending an active developer.
The post also covers a lot of Render Legion's other plans for the year, and is worth reading in full if you're interested in working with the company, or just want a feel for where it's heading next.
Pricing and availability
Corona Renderer 1.4 for 3ds Max is due out on 1 April 2016. The current version, 1.3, is available for 64-bit 3ds Max 2011 and above, running on Windows Vista and above.
Users have a choice between a perpetual 'Box' licence, which costs €449 (around $495), and a 'Fair SaaS' rental model, which costs between €24.99 and €44.99 a month ($27-49). You can find more details here.
Read more about the new features in Corona Renderer 1.4 for 3ds Max in Render Legion's blog post
Tags: adaptive image sampling, Cinema 4D, Corona, Corona 1.4, Corona Renderer, Corona Renderer 1.4 for 3ds Max, CPU-based, denoise, Maya, new features, performance, price, release date, Render Legion, renderer