Wednesday, December 9th, 2015

Posted by Jim Thacker
Ten24 posts 12 interactive figure scans free online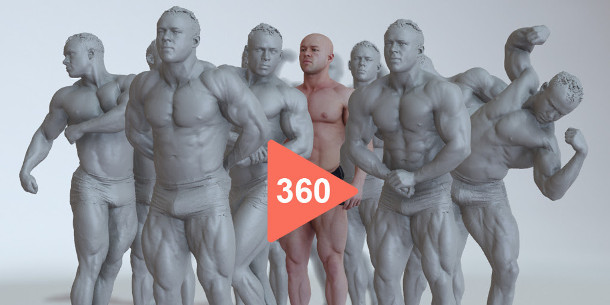 Ten24 has posted 12 interactive full-body 3D reference scans on its Anatomy 330 website, showing a male body builder in a range of 'heroic' poses: flexing, stretching and bending.
It isn't possible to download the scan data itself, but each figure be viewed in a standard web browser via Marmoset Viewer, enabling you to reposition the lights and camera to get the reference images you need.
Most of the scans are untextured, but one neutral pose comes with surface colour information.
More scans coming in the Anatomy 360 app itself
The scans complement the large set of non-interactive reference images available on the Anatomy 360 site.
Anatomy 360 itself is planned as a downloadable tool that will stream thousands of models and poses into a fully customisable player with controls for lighting, shading and cameras, as well as built-in drawing aids.
The app is still in development, but you can see a video of a work-in-progress build here.
View the interactive male full-body scans on the Anatomy 360 website