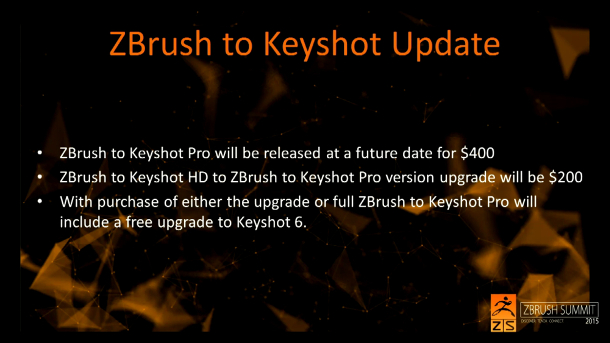 Last weekend's 2015 ZBrush Summit didn't include the news that many visitors were hoping for – that of ZBrush 5 – but it did include a product announcement, in the shape of the upcoming ZBrush to KeyShot Pro.
The new product is an extension of the existing KeyShot for ZBrush, the live link to the HD edition of Luxion's KeyShot renderer introduced earlier this year with the release of ZBrush 4R7.
Aside from the fact that it will cost $400, there aren't any details of the new version at the minute.
You can see the announcement around 09:00:00 in this video of Day 1 of the summit, but all of the important information is shown in the presentation slide at the top of the story.
However, since KeyShot for ZBrush – unlike KeyShot HD itself – already has unlimited render resolution, ZBrush to KeyShot Pro will presumably include the standalone edition's other features.
These include support for render passes and scene sets, and an HDRI editor.
Pricing and availability
ZBrush to KeyShot Pro will ship "at a future date". Existing KeyShot for ZBrush users will be able to upgrade for $200. Both new buyers and upgraders will get a free update to the upcoming KeyShot 6.
Read more about the existing version of KeyShot for ZBrush on Luxion's website
(No new information about the Pro edition yet)
Tags: Featured Articles, KeyShot, KeyShot 6, live link, Luxion, price, release date, renderer, unlimited resolution, ZBrush, ZBrush 5, ZBrush Summit, ZBrush Summit 2015, ZBrush to KeyShot, ZBrush to KeyShot Pro