Thursday, January 30th, 2014

Posted by Jim Thacker
Blender Institute to oversee full-length animated movie
Originally posted on 24 December 2013. Scroll down for updates.
The Blender Foundation has officially unveiled Project Gooseberry: its sixth, and most ambitious, 'open movie' project, in development since early 2011.
Whereas previous open movies like Big Buck Bunny and Tears of Steel have all been shorts, the initiative will see a worldwide network of Blender studios collaborate to create a full-length animated feature.
Backed by new open-source pipeline tools
The work, which is backed by a €220,000 (around $300,000) subsidy from the EU Media Fund, will also see the development of open-source pipeline and project-management tools necessary for a project of this scale.
In a post on the Blender Developer Blog, Foundation chairman Ton Roosendaal lists seven specific areas that will be worked on, from cloud technology to simulation systems – the latter including crowds, hair, fur and cloth.
The Blender Institute, which oversees the open movie projects, has also hired seven full-time and four part-time developers, including Cycles developer Brecht van Lommel and Sintel veteran Campbell Barton.
According to Roosendaal, Project Gooseberry is at least a two-year initiative – the length of the EU-funded tools development work – with an announcement of the artists involved due in January.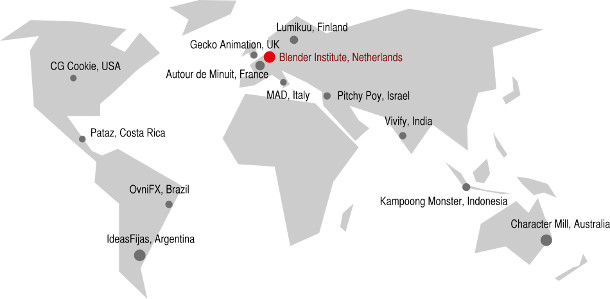 Updated 30 January 2014: The Blender Foundation has posted a list of the 12 studios involved in the project. Every continent is represented, bar Africa (and Antarctica), with facilities in Brazil, India and Indonesia taking part.
Promisingly, the list includes leading French film production company Autour de Minuit, responsible for the Oscar-winning short Logorama, and cute/disturbing animated TV series Babioles, also created in Blender.
In addition, two of the other facilities involved have animated features of their own in development: Argentina's Ideas Fijas is working on Kiribati, and Israel's PitchiPoy is developing Baldy Heights.