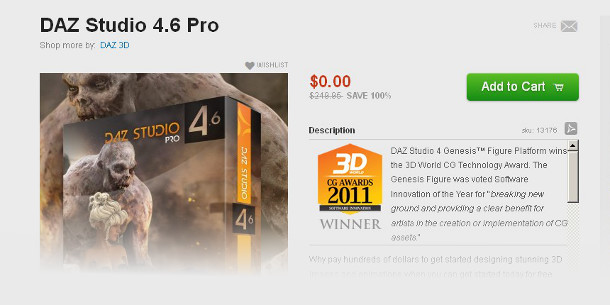 DAZ 3D has released DAZ Studio 4.6 Pro, an update to its free figure-posing and animation tool that adds a number of high-level features, including OpenSubdiv and Ptex support and a new subsurface scattering shader.
Like the upcoming Poser 10, DAZ Studio 4.6 Pro benefits from the OpenSubdiv initiative, which makes Pixar's libraries for implementing high-performance subdivision surface modeling tools available open source.
The release also implements an earlier open-sourced major-studio technology, in the shape of Disney's Ptex UV-less texture-mapping system – before some commercial 3D tools have done so, it should be noted.
Selection sets, gamma correction and subsurface scattering
Other new features in DAZ Studio 4.6 Pro include an update to the 3Delight renderer, improved UV set selection and support for gamma correction and surface selection sets.
A new subsurface scattering shader is available as a separate download.
DAZ Studio 4.6 Pro is available now for Windows and Mac OS X. On DAZ 3D's online store, the 'normal' price for the software is still listed as being $249.95, but since DAZ first made it available for free last February, it's probably safe to assume that you will be available to download it for a little while longer.
Read a full list of new features in DAZ Studio 4.6 Pro on DAZ 3D's forum
Tags: 3Delight, animation, character, DAZ 3D, DAZ Studio, DAZ Studio 4.6 Pro, DAZ Studio Pro, Disney, figure, free, gamma correction, OpenSubDiv, Pixar, posing, Ptex, subsurface scattering