Friday, July 14th, 2023

Posted by Jim Thacker
Adobe's Firefly AI art toolset: everything you need to know

Posted on 22 March 2023 for the original public beta, and updated with details of the commercial release. This story was last updated on 3 October 2023.
Adobe has launched Firefly, its new suite of generative AI art tools.
The toolset, which is browser-based, but which is designed to be embeddable into Adobe Creative Cloud tools like Photoshop and After Effects, currently includes a text-to-image generator and AI text effects.
In future, Adobe aims to add text-based video editing and 3D capabilities.
New browser-based generative AI art tools for illustrators, designers and concept artists
In the initial release, Firefly is focused on tools for 2D artists: illustrators, concept artists and graphic designers.
Tools available to test include a Stable Diffusion or Midjourney-style text-to-image generator, and a tool for applying textures and styles to text.
Both run inside web browsers, and generate JPEG or PNG images at resolutions up to 2,000 x 2,000px.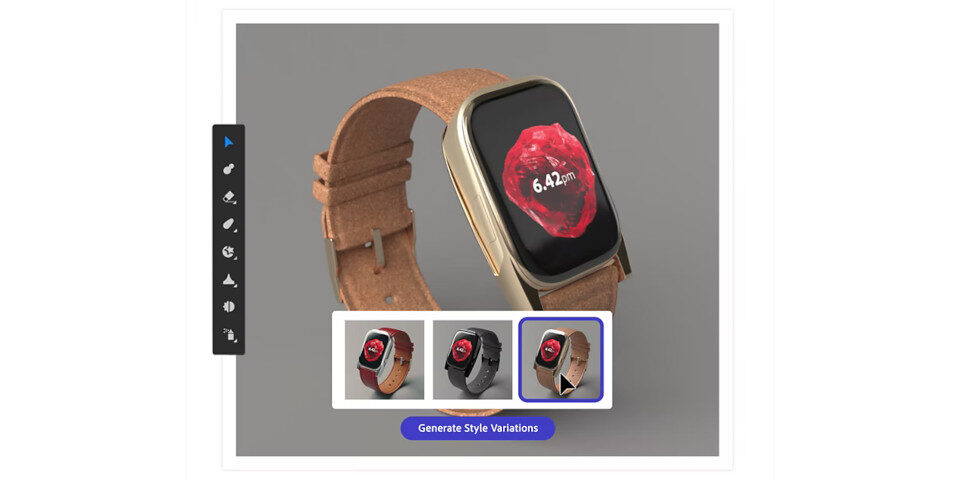 What other tools were released during the beta period?
Other features rolled out during the beta period include inpainting tool Generative Fill.
It enables users to erase parts of an existing image, then fill in the gap by typing in a text prompt to guide the new content that Firefly generates.

AI art tools for video editors and 3D artists in development
Further off, Adobe is working on AI-based video editing and 3D tools.
Proposed features for video editors include the option to have Firefly automatically find sound effects or B-roll footage matching an edit in progress.
Other workflows shown in the teaser video above include colour correction and shot relighting based on natural-language commands, and even automatic generation of storyboards and 3D animatics from scripts.
The 3D tools seem to be geared towards generating material and style variants for 3D models, rather than full text-to-3D capabilities of the type recently announced by Shutterstock.
Will Firefly be integrated into Adobe software?
Although the Firefly tools are browser-based, Adobe says that they are designed to be integrated into its existing services and software.
According to the firm's blog post, "everything is designed, from the ground up, to be embeddable into … Adobe Creative Cloud, Document Cloud, Experience Cloud and Adobe Express".
One of the first Adobe applications to integrate Firefly tools was Photoshop, with Photoshop 25.0 including both Generative Fill and Generative Expand tools.
Which languages does Firefly support?
In July 2023, Adobe expanded the range of languages that Firefly supports. Users can now enter text prompts in over 100 languages, including those that use non-Western alphabets.
Adobe plans to localise the service – that is, translate the Firefly UI – to 20 languages, with versions in French, German, Japanese, Spanish and Brazilian Portuguese available now.
Has Firefly been trained on your images?
The use of artists' work to train AI tools is a contentious issue: something we've touched on in stories like this one on Glaze, a free tool intended to prevent unauthorised use of images to train "unethical" AI models.
Firefly's generative AI model has been trained on Adobe Stock, the firm's stock image library, plus "openly licensed work and public domain content where copyright has expired".
The model was not trained on images from artists' portfolios hosted on the Adobe-owned Behance, and Adobe's FAQs state that it does not currently "train on any Creative Cloud subscribers' personal content".
What if you don't want your images used to train AI models in future?
Adobe's blog post on the ethics of generative AI mentions Do Not Train credentials that will prevent web crawlers from harvesting artists' images for use in datasets to train new AI models.
It isn't clear whether the tags are currently applied to images by any Adobe services, and the post also mentions that they will need "industry adoption" to be effective.
Artists who have licensed their images to Adobe Stock can not opt out of having their images included in training datasets, although Adobe is "continuing to explore the possibility".
The firm is developing a compensation scheme to pay contributors to Stock for including their work in AI training datasets.
What are the system requirements?
The online versions of the Firefly tools are browser-based, and support the Chrome, Safari and Edge browsers on desktop. They do not yet support tablets or mobile devices.
What has changed with the commercial release?
With the commercial release of Firefly on 13 September 2023, the tools can now be used for commercial work.
Adobe has also announced pricing for the Firefly services, and the Firefly contributor bonus paid to Adobe Stock contributors whose images have been used to train AI models.
How much does Firefly cost?
Pricing for Firefly is credit-based, with paid Creative Cloud subscriptions including a monthly quota of 'fast' generative AI credits.
All Apps plans get 1,000 credits/month; single app plans get 100-500 credits/month. One credit corresponds to a text-to-image, Generative Fill or Generative Expand operation on a 2,000 x 2,000px image.
Once their fast credits are used up, users can continue to use Firefly for free, but at slower speeds.
Alternatively, you can buy extra fast credits through a separate new subscription plan, with prices starting at $4.99/month for 100 Credits.
How much do Adobe Stock contributors get paid?
Adobe Stock contributors whose photos, illustrations or vector designs were used to train the first commercial Firefly AI model will be paid a fee for the use of their content.
It is calculated according to the number of a contributor's images that were used for training, and the number of licences those images generated between 3 June 2022 and 3 June 2023.
Adobe hasn't made the rates used to calculate the fees public.
Future 'contributor bonuses' will be paid out once per year, but only for new images. Adobe hasn't ruled out using other types of Adobe Stock assets, like videos, to train AI models in future.

Read more about Firefly on Adobe's product website
Read Adobe's technical FAQs about using Firefly
Read Adobe's FAQs about the ethics of generative AI art tools (At foot of page)
Read Adobe's FAQs about the use of Adobe Stock images to train Firefly