Monday, June 5th, 2023

Posted by Jim Thacker
Esri ships CityEngine 2023

Esri has updated CityEngine, its procedural 3D city generation software.
New features in CityEngine 2023.0 include a new Terrain Smooth Brush, adaptive terrain rendering, and support for clipping planes for section rendering.
A powerful procedural tool for generating 3D city models for urban planning and VFX
CityEngine generates detailed city models from simple procedural rules, importing data in standard file formats like OBJ and DXF, and exporting in formats including FBX, Alembic and USD.
Although aimed at architects and urban planners – it integrates with ESRI's ArcGIS platform – the software is also designed for entertainment, and comes with connections to DCC tools and game engines.
In recent years, it has been used on some major movies: Scanline VFX used it for city-destruction shots in Independence Day: Resurgence, and Walt Disney Animation Studios used it on Zootopia.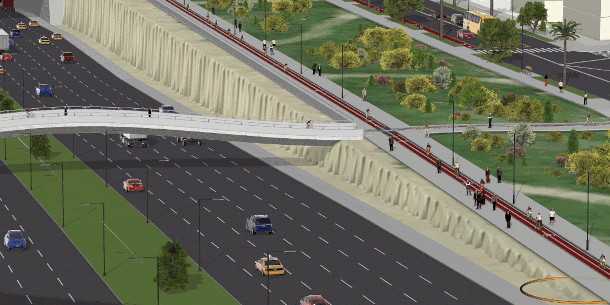 New in CityEngine 2023.0: updates to terrain sculpting
CityEngine 2023.0 further extends the toolset for sculpting the terrain on which a 3D city is located, introducing a new Terrain Smooth Brush.
Terrain is also now rendered adaptively, improving viewport performance, and removing the need to set the maximum resolution of elevation maps manually.
Support for clipping planes, plus tighter integration with Esri's other services
Other changes include the option to set near and far clipping planes for bookmarks, making it possible to generate section views of streets in the viewport.
The software also now supports dynamic import of CGA rulesets, making it possible to instanantiate a ruleset at any place in the code when using CityEngine's CGA programming language.
In addition, integration with ArcGIS Urban has been improved, and users now have access to a wider range of real-world city basemaps from ArcGIS Online when using Get Map Data.
Pricing and system requirements
CityEngine 2023.0 is available for 64-bit Windows 10+ and Server 2016+ and RHEL Server 8+ Linux. Subscriptions now cost $2,200/year; perpetual licences cost $4,400.

Read an overview of the new features in CityEngine 2023.0
Read a full list of new features in CityEngine in the online changelog