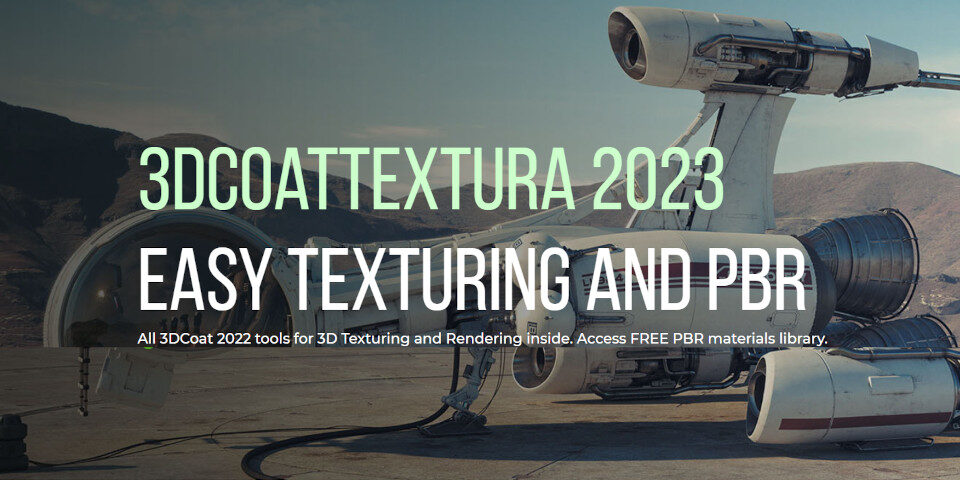 Pilgway has released 3DCoatTextura 2023, the latest version of its 3D painting and rendering software.
Key changes include a new screen-based colour smoothing tool, improvements to the colour picker and UV mapping, support for ACES tonemapping, and an updated version of the AppLink plugin for Blender.
A lower-cost edition of 3DCoat for 3D texture painting and rendering
First released in 2021, 3DCoatTextura is a cut-down of Pilgway's 3DCoat software containing its texture painting and rendering features, but not its sculpting or retopology tools
It enables artists to paint PBR texture maps at resolutions up to 16k, and preview the results in a real-time physically based viewport under HDRI lighting set-ups.
New in 3DCoatTextura 2023.10: updates to the Paint Workspace
Pilgway releases new builds of its software every few days, so the latest version is 3DCoatTextura 2023.10.
As with 3DCoat 2023.10, released alongside it, the online changelog includes features added over the entire previous year, including Power Smooth, a new colour smoothing tool in the Paint Workspace.
Pilgway describes it as "a super-powerful, valence/density independent, screen-based color smoothing tool" for when users need much stronger smoothing than the standard smoothing effect applied by holding [Shift].
The Color Picker has also been updated, with changes including support for hexadecimal colour values.

Better UV unwrapping, turntable rendering, and an update to the Blender AppLink
Other changes include updates to UV unwrapping, with each connected object now unwrapped in its local UV space, and general improvements resulting in fewer UV islands and shorter UV seams being generated.
The update also adds support for ACES tonemapping, as shown in the video above, and improves the turntable rendering system, including the option to render at a higher resolution than screen resolution.
In addition, the Blender AppLink, the software's Blender integration plugin, is now being maintained directly by Pilgway, and has received updates and bugfixes.
Prices due to rise from 11 April 2023
With the release of 3DCoatTextura 2023, Pilgway is also raising the price of perpetual licences and subscriptions: its first price increases since launching its current online store.
The Ukraine-based firm attributes the rise to the effects of the ongoing Russia-Ukraine war on the economy.
Price and system requirements
3DCoatTextura 2023 is available for Windows 7+, Ubuntu 20.04+ and macOS 10.13+.
For individual artists, new perpetual node-locked licences cost €119. Subscriptions cost €10.80/month. Rent to own plans require seven continuous monthly payments of €21.60.
For studios, new perpetual node-locked licences cost €379; floating licences cost €419. Subscriptions cost €20.85/month or €199/year for node-locked licences; €24.85/month or €229/year for floating licences.
You can find details of educational pricing on Pilgway's website. All prices exclude tax.

Read an overview of the new features in 3DCoatTextura 2023.10 in the online release notes
Tags: 3D painting, 3DCoat, 3DCoatTextura, 3DCoatTextura 2023.10, ACES, Blender, Blender AppLink, character design, color picker, color smoothing, concept design, creature design, export to Blender, game development, new features, Paint room, Paint Workspace, Pilgway, Power Smooth, price, price increase, price rise, system requirements, texture painting, texturing, tonemapping, turntable rendering, uv mapping, UV unwrapping, vfx, visual effects