Originally posted on 12 April 2021. Scroll down for news of the commercial release.
Pilgway has released 3DCoat 2021 as a free open beta. The long-awaited update to the voxel sculpting, retopology and 3D painting software overhauls the app's UI, brush engine and viewport rendering.
There are also complete new rooms within the interface for kitbashing and roughing out low-poly models, a new node editor for shaders and post effects, and a new curve-based Smart Retopo system.
3DCoat 5.0 under the old numbering, and also previously known as 3DCoat 2020
The biggest update to the software since 2019's 3DCoat 4.9 – under the old numbering system, it would presumably have been version 5.0 – 3DCoat 2021 has been in development for some time.
It was originally due to ship late last year – which is why some of the demo videos embedded below refer to it as 3DCoat 2020 – but the release has been pushed back several times.
More configurable user interface, including the option to add entire custom 'rooms'
The 2021 release overhauls 3DCoat's interface, although the key changes are primarily under the hood.
It doesn't radically change the look of the UI, which has led to some criticism in the release thread on the 3DCoat forum, with users calling for greater standardisation of the icons and streamlining of menus.
However, it does make the UI much more customisable, with the option to add custom workspaces or even entire rooms, and new options for grouping and colour-coding object layers.

New rooms for kitbashing and roughing out low-poly base models for sculpts
There are also two readymade new rooms in the interface: one for kitbashing, shown in the video at the top of the story, and another for low-poly modelling, shown in the video above.
The KitBash room enables users to quickly rough out assets or entire scenes using a new Joints tool to place assets from a library of readymade hard-surface parts, like walls, stairs, pipes and gears.
A separate library of readymade spline objects can be used to create linear forms like fence posts or wire.
The Modeling room is intended for roughing out low-poly assets that can then be subdivided and used as a base for sculpts in the software's Sculpt room.
It contains a fairly standard set of polygon modelling tools, following an extrusion-based workflow, and for lofting or lathing forms along splines.

Updates to the brush engine and sculpting brushes
3DCoat 2021 also overhauls the software's sculpting tools, with the new brush engine making it possible to customise brushes more extensively, including by adding modifiers to them.
There are also new brushes for smoothing or sharpening surface details on sculpts – the Sharpen brush is shown in the video above – and updates to several existing brushes.
The online release notes don't provide a complete list, but you can see many of the changes to individual brushes in demo videos on the 3DCoat YouTube channel.
In addition, the curves toolset and sculpt layers system introduced in 3DCoat 4.9 move out of beta.

New Smart Retopo system creates clean quad geometry following your hand-drawn guide curves
Changes to the retopology toolset include Smart Retopo, a new curve-based retopology tool, along the lines of those in specialist apps like TopoGun or Blender's Retopoflow add-on.
It enables users to retopologise high-res sculpts by drawing guide curves across their surface, with 3DCoat automatically linking them with patches of even quads.
The Retopo room also gets a new 2D Primitives tool for adding discs, rings or geometric islands of polygons, and five new display modes: Wireframe, UV seams, Sharp Edges, Colored UV islands and Smoothed.

New node editor for materials and post effects
3DCoat 2021 also introduces a node editor to the software.
The video above is a preview from last year, but in the initial release, it is possible to author procedural shaders and to bake their output to texture maps; and to bake procedural deformers.

Support for screen space GI and reflections in the Render room
The node editor can also be used to author custom post effects for renders, as shown above.
Other new features in the software's Render room include support for screen space GI and reflections.

Other changes: paint bump maps from reference images and record changes to a scene as scripts
Other new features in 3DCoat 2021 include the option to add surface detail to a sculpt by painting through a reference image onto its surface to generate a bump map, as shown in the video above.
There is also initial support for recording changes to a scene as scripts to automate common tasks, although in the 2021 release, this seems to be confined to recording parameter changes to primitives.
Performance improvements include updates to brush operations and paint layer switching: both roughly twice as fast as in 3DCoat 4.9, according to the release notes.
Both sculpting and paint strokes will also now accurately follow the trajectory of the user's stylus or mouse even if viewport frame rate drops, rather than lagging out.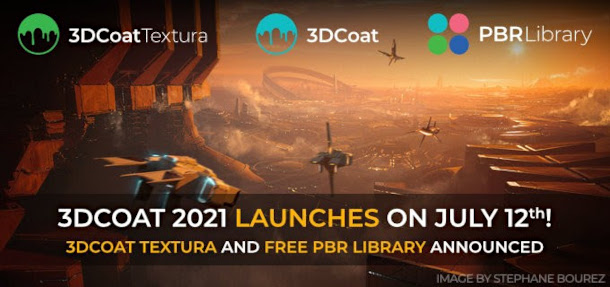 Updated 30 June 2021: Pilgway has announced that 3DCoat 2021 will ship commercially on 12 July 2021.
The release will change the pricing structure of 3DCoat, introducing new lower-cost options.
The first of these is 3DCoatTextura, a new cut-down edition of the software intended for texturing models created in other DCC applications, and available at a "more affordable" price.
Both it and 3DCoat itself will also be available via a 'rent to own' system, in which users renting the software receive a perpetual licence once they have paid enough instalments.
Pilgway has also launched an accompanying online library of assets including scan-based PBR materials. Subscribers get 120 credits each month with which to download assets.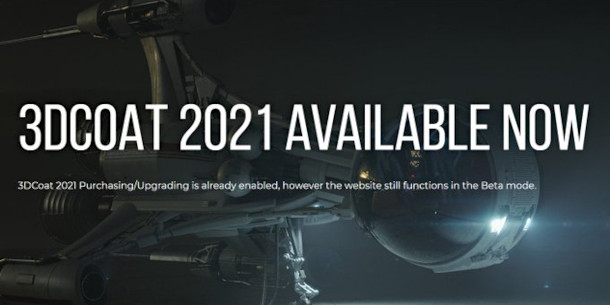 Updated 12 July 2021: 3DCoat 2021 is now shipping.
You can find more details of the new subscription and rent-to-own plans on Pilgway's new product website. Unlike the old site, prices are only listed in Euros, at least when browsing the site from within Europe.
New 'unlimited learning mode' for the trial edition
The release also brings changes to the 30-day trial edition of the software, which now continues working in non-commercial 'unlimited learning mode' after the trial period expires.
In learning mode, users can save projects in 3DCoat's own .3b format, although saved projects are limited to 20 sculpt objects and 10 layers, and renders are watermarked.
Models can also be exported in on OBJ format with a limit of 20,000 triangles from the software's Sculpt room, or 4,000 triangles from the Retopo, Paint and Modeling rooms.
Textures can be exported at up to 512 x 512px resolution, or at higher resolutions with watermarks.
Old cut-down 3D printing edition and many AppLink plugins no longer available
Many of the old AppLink plugins, which provided live links to DCC tools including 3ds Max, Cinema 4D, Maya and ZBrush, are no longer available for download on the new website.
The plugins were community-developed, and in many cases, had not been updated for some time.
The only AppLink currently available is for Blender. According to this forum post from the start of the year, Pilgway hopes to get the other plugins "up to date … shortly after" the release of 3DCoat 2021 itself.
In addition, 3DC Printing, the old cut-down edition of the software aimed at creating models for 3D printing, is no longer available in Pilgway's online store.
Pricing and availability
3DCoat 2021 is available for Windows 7+, Ubuntu 20.04 Linux and macOS 10.13+.
For individual artists, new perpetual node-locked licences cost €379. Subscriptions cost €19.85/month or €149.85/year. Rent to own plans require seven continuous monthly payments of €59.55.
For studios, new perpetual node-locked licences cost €459 and new perpetual floating licences cost €499. Subscriptions cost €34.85/month for both node-locked and floating licences, or €279/year for node-locked licences and €299.85/year for floating licences.
For details of educational pricing and free non-commercial student licences, check out the product website. All prices exclude tax. At the time of writing, the software is available at a launch discount.

Read a list of new features in 3DCoat 2021 in the online release notes
Read more about 3DCoat's feature set on the new product website
Read more about 3DCoatTextura in our separate story on the new edition
Tags: 2D primitive, 3D painting, 3D-Coat, 3DC Printing, 3DCoat, 3DCoat 2020, 3DCoat 2021, 3DCoat 4.9, 3DCoat 5.0, 3DCoat Printing, 3DCoatTextura, 3ds max, AppLink, automation, Blender, brush engine, bump channel, Cinema 4D, commercial release, curve tools, curve-based retopology, custom room, custom workspace, digital painting, digital sculpting, free, GI, global illumination, integration, Kitbash room, kitbashing, Learning Mode, live link, low-poly modeling, materials library, Maya, Modeling room, new features, new pricing, new website, Node Editor, open beta, paint through image onto sculpt, PBR library, performance, Pilgway, plugins, post effect, price, release date, Render room, rent to own, Retopo room, RetopoFlow, retopology, rough out low-poly model, scan-based materials, screen space GI, screen space reflections, script recording, sculpt layers, Sculpt room, sculpting brushes, shader, sharpen, Smart Material, Smart Retopo, smooth, SSGI, stable release, system requirements, TopoGun, viewport rendering, voxel sculpting, ZBrush