Thursday, May 11th, 2023

Posted by Jim Thacker
Pilgway releases 3DCoat 2023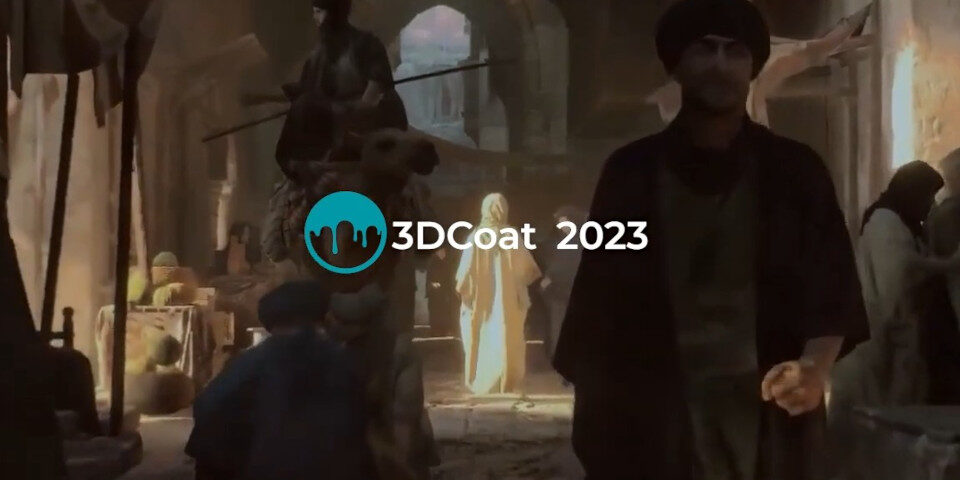 Originally posted on 28 March 2023. Jump to details of current pricing for the software.
Pilgway has released 3DCoat 2023, the latest version of the sculpting, retopology and 3D painting app.
New features include support for soft selection during modelling and retopology, a timelapse screen recorder, and better performance when subdividing meshes.
Other changes since 3DCoat 2022 include a new multi-resolution sculpting system, improvements to the Sketch tool, painting tools, and file export, including export to Blender and Unreal Engine.
Pilgway has also released 3DCoatTextura 2023, the latest version of the cut-down edition of 3DCoat for texture painting and rendering.
Part of an ongoing series of smaller updates to the 3D sculpting and painting software
Pilgway releases new builds of 3DCoat every few days, so the latest release is actually 3DCoat 2023.10, but it's the first to be designated an official 2023 release in the online changelog.
The release notes include features that were rolled out during the 2022.x updates, including the new multi-resolution sculpting system, and improvements to the Sketch tool, painting tools and file export.
For more details, check out our story on 3DCoat 2022.52 from last November.

3D modelling: soft selection, updates to the Tree Generation tool, and faster mesh subdivision
Features added since 3DCoat 2022.52 include support for soft selection in the Modeling and Retopo workspaces, and a new Lattice tool.
3DCoat's Tree Generator tool, which generates parametric 3D trees, also now generates leaves as well as trunks, branches and roots.
Performance in Surface Mode has been improved, with subivision of meshes now "at least" 5x faster, and users able to subdivide meshes "even to 100-200M [polygons]".
Other changes: timelapse screen recording, better UV unwrapping and IGES export
The release also introduces a new timelapse screen-recording tool, which records the screen at user-specified intervals to generate a timelapse video of a model being created.
Other changes include improvements to AutoMap, 3DCoat's automatic UV unwrapping system.
In addition, 3DCoat 2023 supports the export of models in IGES format: functionality that will eventually be moved to a separate paid add-on module.
Prices due to rise from 11 April 2023
With the release of 3DCoat 2023, Pilgway is also raising the price of perpetual licences and subscriptions to 3DCoat: its first price increase since launching its current online store.
The Ukraine-based firm attributes the rise to the effects of the ongoing Russia-Ukraine war on the economy.

Updated 11 May 2023: Pilgway has reversed the price rise for individual perpetual licences of 3DCoat, which revert from their new price of €439 to their original price of €379.
In its email newsletter, the fim commented: "We understand that in the current situation, many people all around the world have financial difficulties."

Price and system requirements
3DCoat 2023 is available for Windows 7+, Ubuntu 20.04+ and macOS 10.13+.
For individual artists, new perpetual node-locked licences of 3DCoat cost €379. Subscriptions cost €20.80/month or €169.85/year. Rent to own plans require 11 continuous monthly payments of €41.60.
For studios, new perpetual node-locked licences of 3DCoat cost €539; floating licences cost €579. Subscriptions cost €29.85/month or €299/year for node-locked; €34.85/month or €319.85/year for floating.
You can find details of educational pricing on Pilgway's website. All prices exclude tax.

Read an overview of the new features in 3DCoat 2023.10 in the online release notes
Read a detailed list of new features in 3DCoat 2022 on the product forum
(Changelog is in the third post: individual posts about 3DCoat 2023.x start on page 91 of the thread)