Looking for a quick way to rough out ideas for props and product designs? Check out Clavicula, developer Lucian Stanculescu's promising lightweight cross-platform 3D modelling app.
The software has been in development for a couple of years, but has just gained interesting a new Boolean modelling toolset based on Signed Distance Fields, also used in Adobe's Substance 3D Modeler.
A lightweight 3D modelling application with a number of interesting toolsets
Although Stanculescu only began work on Calvicula in 2021, he has been developing 3D modelling software for much longer.
Games From Scratch described Neobarok 2, Clavicula's predecessor, as "a completely one-of-a-kind application", and "awesome, powerful and extremely frustrating".
Clavicula is being developed in a similar spirit, with a non-standard UI, but several really interesting toolsets.
As well as 3D modelling, it supports 3D painting, PBR materials, ray traced viewport rendering, and Bones: an unusual system for sketching out and posing a model with some similarities to ZBrush's ZSpheres.
Recent updates have even added a basic physics toolset, for rigid bodies and collisions.
Once created, models can be exported in OBJ format, making it possible to refine them in other DCC apps.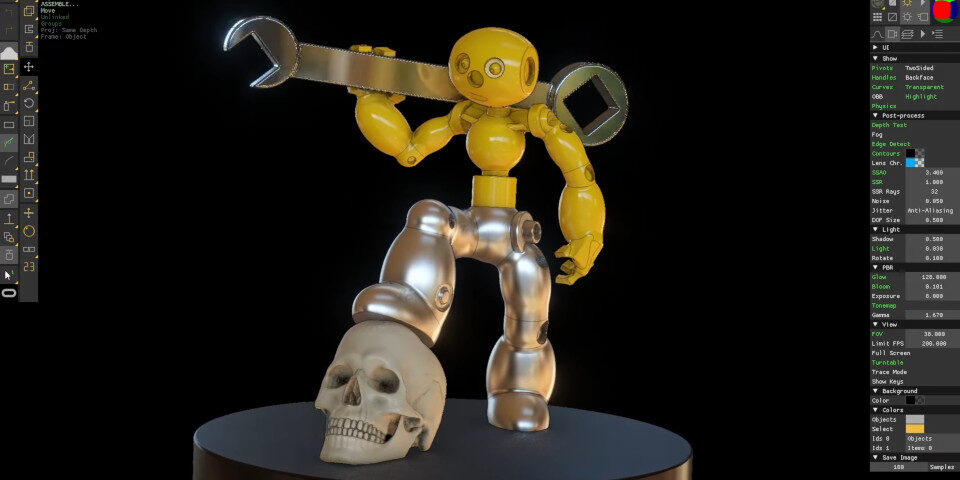 A model created using Clavicula's new SDF modelling toolset, with the exception of the imported 3D skull.

Latest update adds SDF modelling toolset for quickly roughing out designs for hard-surface models
However, the thing that caught out eye in the latest update was SDF modelling: modelling using Signed Distance Fields, the volumetric representation of geometry also used in Adobe's Substance 3D Modeler.
It provides a quick, intuitive way to block out and explore alternative shapes for 3D models, using a workflow that combines elements of Boolean modelling and digital sculpting.
Although it can be used to rough out organic characters, most people will probably use it for hard-surface models: from product designs and games props to base forms for use in concept art.
Like Substance 3D Modeler, you can even work in virtual reality, although in Clavicula, VR support is currently experimental, and only available in the Windows edition.
Little written documentation, but there are introductory tutorial videos
Clavicula is very much presented as-is: there is no active product support, and little written documentation.
However, Stanculecu has recorded a series of YouTube tutorials that introduce new users to Clavicula's key features, and you can get a sense of the other tools available from the online changelog.
Licence and system requirements
Clavicula is compatible with Windows, Linux and macOS. It's a portable app, so you don't need to install it on a host machine to run it. The Windows edition has experimental VR support on Meta headsets.
It's a free download, but if you like the sofware, there is a link at the foot of the homepage of the product website to make a donation to support product development.
Download free lightweight SDF-capable 3D modelling software Clavicula from the product website
Tags: 3D modeling, 3D painting, alternative to Substance 3D Modeler, AR, Augmented Reality, bones, Boolean modeling, Calvicula, Clavicula 0.9.9.2, Concept Art, concept design, constructive solid geometry, digital sculpting, download, free, game development, hard surface modeling, Lucian Stanculescu, meta, OBJ, PBR, product design, prop, ray traced rendering, SDF, signed distance field, Substance 3D Modeler, viewport rendering, virtual reality, VR, ZBrush, ZSphere