The Blender Foundation has announced the Animation 2025 project: an ambitious – and long-awaited – three-year initiative to overhaul Blender's character rigging and animation tools.
The project was launched with a three-day development workshop in October, the results of which were presented at last month's Blender Conference, the recording of which is embedded above.
Work will take place between January 2023 and the end of 2025, with initial goals including development of new rig profiling tools, rigging and constraint nodes, and a 3D onion skinning system.
Animation 2025? What happened to Animation 2020 and Animation 22?
Although Blender has been widely adopted in game development and VFX pipelines, that's usually for asset development: it has had much less success in displacing Maya as the de facto off-the-shelf tool for animation.
That reflects where development effort has been focused on recent years: the last major update to the open-source software's animation toolset was for Blender 2.50 in 2009, so an overhaul is long overdue.
In fact, the Blender Foundation has been here before: a revamp of the animation tools – codenamed Animation 2020, and then Animation 22 – was listed as a Big Blender Project last year, and updates to rigging and animation have featured in its subsequent Blender roadmaps.
Of the proposed changes, the new pose library shipped in Blender 3.0 in December 2021, but for animators, the remaining 3.x releases have been much less significant updates.
That makes October's workshop – and the resulting three-year development plan summarised in this post on the Blender Developers blog – one of the most visible signs of progress so far.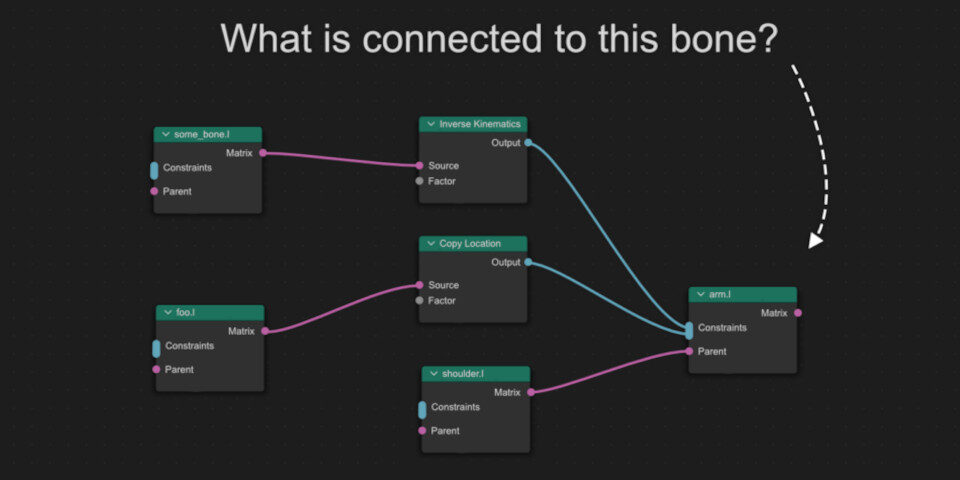 A mockup of the Rig Explainer. The rig performance-profiling tool will be one of the first systems to be prototyped when work on the Animation 2025 project begins next year.
What new tools will be developed during the Blender Animation 2025 project?
That said, the proposals from the workshop are mainly design principles – that animation workflow in Blender should be fast, intuitive, focused, iterative and direct – rather than specific technical changes.
While the blog post includes interesting ideas – like mesh-based character posing, example-based drivers for character rigs, and separation of frame rates for foreground and background characters – they're often examples of things that it would be nice to have, not things the Blender will definitely get.
However, there are concrete targets: when development work begins in January 2023, the initial goal is to build prototypes of new systems including a Rig Explainer – a rig performance profiling tool – and rigging and constraint nodes, and a 3D onion skinning system.
After that, the timeline is much less specific: the blog post notes that it "will likely change over the course of the project as new insights develop", with the goal for 2025 listed simply as "more usable cool stuff".
When will the new tools from the Blender Animation 2025 project be released?
Blender's Animation 2025 project begins on 1 January 2023 and is scheduled to continue until the end of 2025. New features "will be merged into mainstream Blender as often as possible".
Under the Blender Foundation's current two-year release cycle, the work will span the remainder of the Blender 3.x releases and the entire Blender 4.x release cycle.
Read more about the Blender Animation 2025 project on the Blender Developers blog
Tags: 3D onion skinning, animation, Animation 2025, Blender, Blender 3.x, Blender 4, Blender 4.x, Blender Foundation, Character Animation, character rigging, constraint nodes, game development, new character animation tools, new character rigging tools, new features, onion skinning, open source, performance profiling, release schedule, Rig Explainer, rigging nodes, timescale, vfx, visual effects