Saturday, October 22nd, 2022

Posted by Jim Thacker
Adobe releases Fresco 4.0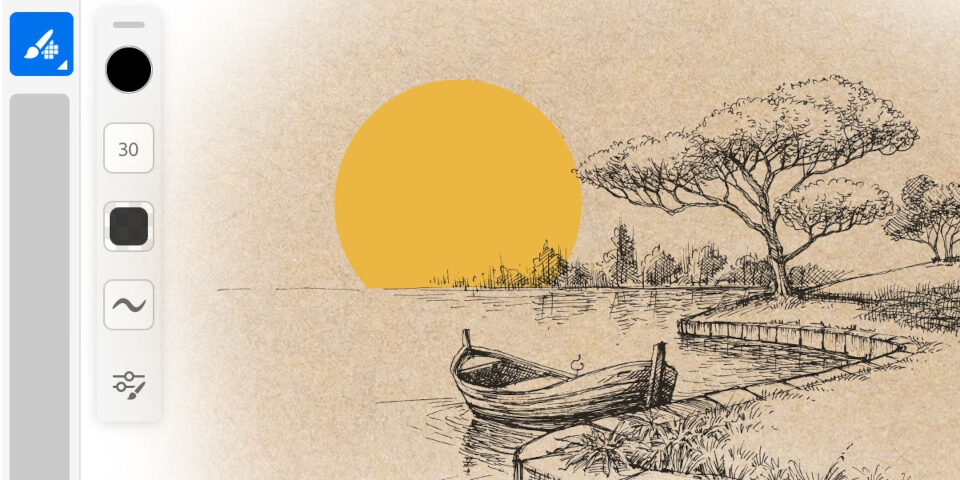 Adobe has released Fresco 4.0, the latest version of its digital drawing and painting app for Apple and Windows tablets, adding nine new pixel brushes and the option to multi-select files.
Blending natural media paint effects with raster and vector tools
Fresco enables users to create 2D images on iPad, iPhone and Windows tablets, using a range of painting styles: conventional Photoshop-style pixel brushes, natural media live brushes, and vector brushes.
It has a layers system supporting grouping, layer masks, and all of the same blending modes as Photoshop, plus basic selection functionality and colour adjustments.
Fresco 3.0, released last year, added the option to add motion to static images, either by creating each frame of the animation manually, or by setting objects to move automatically along motion paths.
Fresco 4.0: new pencil brushes, and improve file organisation workflow
Adobe currently updates Fresco at least once per month, so Fresco 4.0 itself is a relatively small release.
The iPad and iPhone editions get nine new pencil brushes, for drawing fine, pencil-like lines; and the option to multi-select documents to move, copy or delete them.
In addition, the Photoshop-style Liquify tool, for freely distorting images, is now available on iPhone as well as iPad and Windows tablets.
New options for creating multi-coloured brushstrokes and freely transforming images.
We last wrote about Fresco when Adobe cut the price of its premium features earlier this year, coinciding with the release of Fresco 3.6.
Since then, the firm has added new features for creating multi-coloured brush strokes, including built-in multi-colour swatches for pixel and live brushes, and colour dynamics for pixel brushes.
Other recent additions include a Free Transform tool for perspective-style transformations to images.
Pricing and system requirements
Fresco 4.0 is available for iOS 14.0+, iPadOS 14.0+ and Windows 10+. It is compatible with any Windows device using a Surface Pen or Wacom Pro Pen, and runs on AMD, Intel and Nvidia GPUs.
The base app is free, but the premium features cost $9.99/year.
Read a full list of new features in Fresco 4.0 in the online documentation