Wacom has launched the Cintiq Pro 27, its new top-of-the-range touch-enabled 27″ pen display for professional graphics work.
The firm describes the 120Hz 4K display, which is targeted at digital sculpting, 3D animation, game development and virtual production as well as 2D painting, as "the fastest pen display in the industry".
As well as its higher refresh rate, the Cintiq Pro 27 has a smaller desktop footprint than the existing Cintiq Pro 24, and is ships with the Pro Pen 3, Wacom's next-generation stylus.
However, at $3,499.95, not including the newly redesigned stand, its price is even more wallet-busting.
Wacom Cintiq Pro pen displays
Cintiq Pro 32
Cintiq Pro 27
Cintiq Pro 24 touch
Display size
31.5 in (80 cm)
26.9 in (68.3 cm)
23.6 in (59.94 cm)
Display resolution
4K Ultra HD
(3,840 x 2,160)
4K Ultra HD
(3,840 x 2,160)
4K Ultra HD
(3,840 x 2,160)
Active area
27.4 x 15.4 in
(697 x 392 mm)
23.5 x 13.2 in
(596 x 335 mm)
20.6 x 11.6 in
(522 X 294 mm)
Dimensions
33.6 x 19.9 x 2.1 in (854 x 506 x 53.3 mm)
25.1 x 14.9 x 1.2 in (638 x 379 x 31 mm)
26.7 x 15.5 x 1.9 in (677 x 394 x 47 mm)
Weight
28.7lb (13.0 kg)
15.9 lbs (7.2 kg)
15.4 lbs (7.0 kg)
Colour performance
1.07 billion colours
98% Adobe RGB
1.07 billion colours
99% Adobe RGB
1.07 billion colours
99% Adobe RGB
Viewing angle
(vertical)
128°
178°
176°
Refresh rate
60Hz
120Hz
60Hz
Brightness
310 cd/m2
400 cd/m2
350 cd/m2
Pen
Pro Pen 2
Pro Pen 3
Pro Pen 2
ExpressKeys
17
(ExpressKey Remote)
8
(On display)
17
(ExpressKey Remote)
Multi-touch
Yes
Yes
Yes
Release date
2018
2022
2018
Recommended price
$3,299
$3,499.95
$2,499
Supersedes the old 32-inch Cintiq Pro 32
The Cintiq Pro 27 is Wacom's first new high-end professional pen display for quite some time, its predecessors – the Cintiq Pro 24 and Cintiq Pro 32 – having been released in 2018.
The new model effectively replaces the Cintiq Pro 32 at the top of the product range: although the 32 is still listed on Wacom's website, it is no longer manufactured, and is not available in Wacom's online store.
Smaller, faster-refreshing and more responsive than the Cintiq Pro 24
That makes the Cintiq Pro 27 the largest pen display on the market, since rival manufacturers like XP-Pen and Huion stop at 24-inch models.
Despite that, it actually has a smaller desktop footprint than its own 24-inch sibling, thanks to the new design's much narrower bezel; and a very similar weight.
It also has a higher maximum brightness, a greater range of vertical viewing angles, and that industry-first 120Hz refresh rate, which Wacom is pitching as a particular benefit to games artists.
Although harder to quantify, Wacom says that drawing performance has also been improved, with better parallax than previous models, and jitter in the corners of the drawing area now "pretty much non-existent".
Screen resolution and colour gamut are unchanged, at 4K Ultra HD and 99% of Adobe RGB respectively, although the Cintiq Pro 27 is also Pantone- and Pantone SkinTone-validated.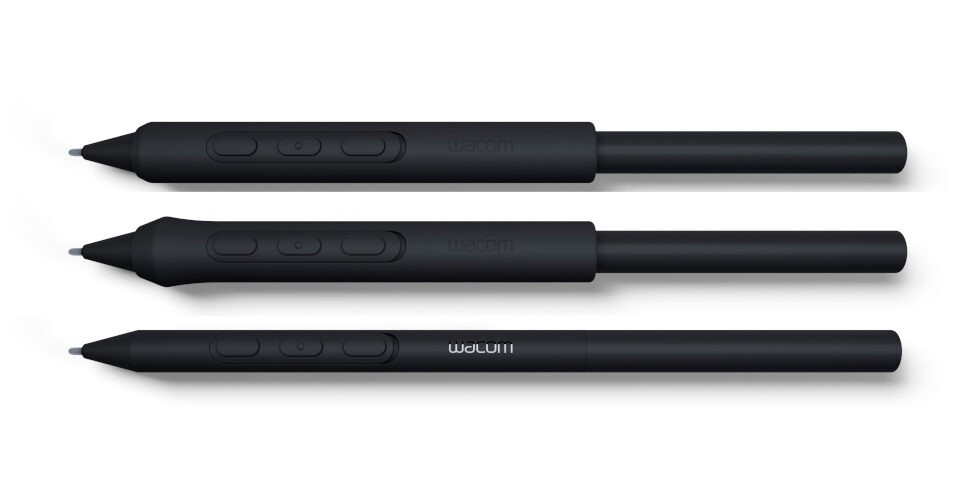 Customisable new Pro Pen 3 and eight on-board ExpressKeys
The Cintiq Pro 27 is also Wacom's first pen display to ship with its battery-free Pro Pen 3.
Although it features the same 8,192 levels of pressure sensitivity as its predecessor, it's far more customisable, with users able to change the weight, barrel size, grip type and centre of gravity of the pen.
Adjustments are made by screwing together interchangeable components that come with the pen: an intuitive, and relatively foolproof-looking system.
Like its predecessors, the Cintiq Pro 27 comes with multi-touch support as standard, making it possible to use gesture controls as well as the pen itself.
It also comes with eight programmable ExpressKeys on the back of the display, four on either side, rather than relegating them to the separate ExpressKey Remote device.
Connectivity and power consumption
For connectivity, the Cintiq Pro 27 sports two USB-C ports, one capable of running in DisplayPort Alt mode, plus single USB-A, HDMI and Mini-DP ports, although it lacks the USB 3 ports of its predecessors.
Wacom has also now begun quoting maximum power consumption in its specs (85W, or 15W in sleep mode), and says that the new display can run "pretty much all day" without putting out significant heat.
Wacom's most expensive pen display yet
However, at $3,499.95 – plus $499.95 for the newly redesigned adjustable stand – the Cintiq Pro 27 is also Wacom's most expensive pen display, costing $200 more than even the old 32-inch model.
Wacom attributes the price hike to recent increases in the cost of components, pointing to its reputation for product quality, and commenting that the new display "pays for itself in about three months".
However, the firm admits that the Cintiq Pro 32 sold less well than it expected, and will be hoping that, with its combination of reduced desktop footprint, improved screen performance, and the redesigned Pro Pen 3 and on-board ExpressKeys, the Cintiq Pro 27 can outperform its predecessor.
Pricing and system requirements
The Cintiq Pro 27 is compatible with Windows 7+ and macOS 10.15+. You can find information on Linux support on Wacom's website. It haa a MSRP of $3,499.95.
Read more about the Cintiq Pro 27 on Wacom's product website
Tags: 120Hz, 27-inch, 3D modeling, active area, adjustable stand, animation, CAD, cintiq, Cintiq Pro 24 touch, Cintiq Pro 27, Cintiq Pro 32, computer graphics, digital painting, digital sculpting, dimensions, display brightness, display resolution, ExpressKey Remote, ExpressKeys, fastest pen display, first 120Hz pen display, game development, Huion, illustration, Linux support, motion graphics, multi touch, parallax, pen display, price, Pro Pen 3, refresh rate, specifications, vfx, video editing, virtual production, visual effects, Wacom, weight, XP-Pen