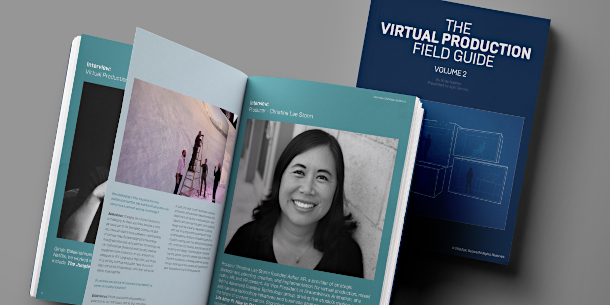 Epic Games has released the second volume of the Virtual Production Field Guide, its free overview of the technology and working practices in virtual production for film and broadcast.
Volume 2, available as a downloadable 158-page PDF, explores new workflows that have emerged since the release of the first volume, and includes over 20 new interviews with leading artists.
One of the first comprehensive overviews of the technology and workflows of virtual production
Released in July 2019, the original Virtual Production Field Guide was one of the first widely available overviews of the emerging world of virtual production (VP).
Defined in the report as combining VR and AR with game engine technologies to "enable production crews to see their scenes unfold as they are composed and captured on set", VP eliminates guesswork during live shoots for VFX-heavy productions, and enables artists to iterate faster than traditional, more linear pipelines.
Early sections provide an overview of types of virtual production used in VFX and feature animation, including visualization, performance capture, and hybrid workflows like the then-new technique of shooting live actors against a LED wall displaying CGI backgrounds.
However, the bulk of the PDF consists of interviews with professionals in the movie and TV industry – producers, directors, cinematographers and VFX artists – about how VP is changing their working lives.
Although it was clearly created to help promote Epic Games' own Unreal Engine, one of the key real-time rendering tools for virtual production, it's a relatively soft sell.
Rather than exploring the capabilities of Unreal Engine in detail, the game engine is a recurring background theme throughout the interviews: a tool that seemingly everyone uses.
New in Volume 2: landmark projects, new workflows, and new job opportunities
Volume 2 of the Virtual Production Field Guide picks up where the first part left off.
Early sections explore how high-profile projects The Mandalorian have brought virtual production to public attention, along with emerging workflows like remote multi-user collaboration.
There's more specific to Unreal Engine this time around, with sections devoted to Epic Games' vision for the software, and references to the new features due in Unreal Engine 5 later this year.
Inevitably, another recurring theme is COVID-19, with many interviewees discussing how global coronavirus restrictions became an unexpected new reason to adopt virtual workflows.
Other new content includes an exploration of the role of virtual production on indie projects, and descriptions of some of the new job roles that VP is creating in virtual art departments.
However, as with Volume 1, the guts of the PDF is the artist interviews: over 20 of them this time, including leading directors like Jon Favreau and multi-Oscar-winning VFX supervisor Rob Legato.
Download The Virtual Production Field Guide Volume 2 for free from Epic Games' website
Tags: Augmented Reality, broadcast, careers, careers advice, coronavirus, COVID-19, download, Epic Games, feature animation, film broadcast, free, Game Engine, greenscreen, hybrid workflow, in-camera effects, indie production, interviews, job opportunity, Jon Favreau, LED wall, Movie, overview, PDF, pitchvis, postvis, previs, real-time rendering, report, Robert Legato, survey, technique, technology, techvis, The Mandalorian, TV, UE4, Unreal Engine, Unreal Engine 5, vfx, virtual art department, virtual production, Virtual Production Field Guide, virtual reality, virtual scouting, visual effects, Volume 1, Volume 2, VP, VPFG, workflow