Monday, February 22nd, 2021

Posted by Jim Thacker
Pulze ships Post Manager 1.2

Originally posted on 2 May 2019. Scroll down for news of the 1.2 update.
Pulze, the tools development spin-off of architectural visualisation firm Brick Visual, has released Post Manager, a new post-production workflow tool for Photoshop.
The software is designed to automate the process of building and maintaining complex Photoshop files based on V-Ray and Corona Renderer render elements.
Automatically build and updated composite visualisation images based on 3D render elements
Post Manager automatically builds Photoshop files for composite images from sets of raw render elements, based on templates specifiying layer group structure, blending modes and opacity.
The software comes with built-in templates designed for architectural work, but users can also build them from scratch or copy the stucture of existing documents.
When importing a V-Ray Multimatte render element, Post Manager can automatically create three separate layer groups, each using a different primary colour channel as a mask.
It can also analyse existing documents, identify layers based on render elements and update them with newer versions, with the option to resize the document to match the resolution of the new elements.
Part of a range of professional workflow tools for architectural visualisation
Post Manager is Pulze's second workflow utility, following last year's Scene Manager, intended to help keep large 3ds Max scenes organised.
Both were developed with input from large architectural firms, including SOM and Woods Bagot, and are intended for serious visualisation work.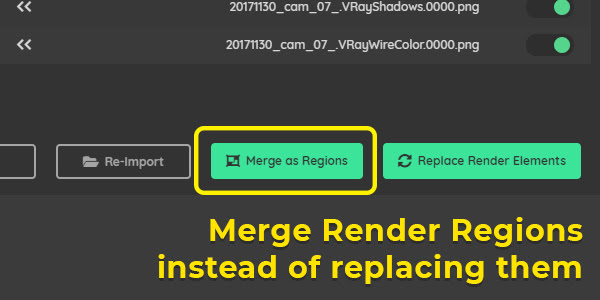 Updated 22 February 2020: Pulze has released Post Manager 1.2.
The update improves support for region rendering, with new region renders automatically being bundled into a Photoshop Smart Object with the original render element, merging them non-destructively.
Other changes include support for linked Smart Objects, automatic matching of render elements by name, and support for render elements generated in FStormRender.
Pricing and system requirements
Post Manager is compatible with Photoshop CC 2018+ running on Windows only, and render elements generated in V-Ray, Corona and FStormRender. It is rental-only.
Standard subscriptions cost $7/month; Indie subscriptions – new since the original release – cost $24.30/year, and provide access to a limited range of features.