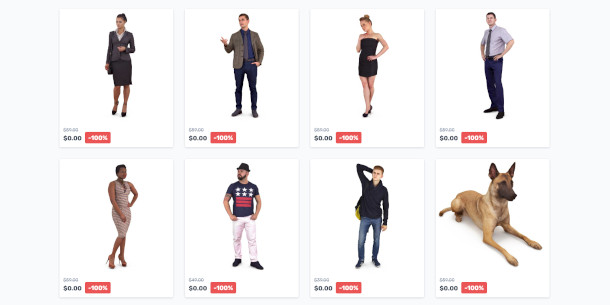 New online asset library Renderbot has made nine of its 3D scans of people available to download for free for use in commercial projects, along with a scan of a dog.
Free 3D scanned characters for use in commercial visualisation projects
The scanned characters are mainly white, but include male and female figures with ages ranging from children to middle-aged adults, and a variety of clothing styles.
Each is provided in a range of common 3D file formats (typically OBJ, FBX, STL, WRL and as a 3ds Max scene file) with either 4,096 x 4,096px or 8,192 x 8,192px diffuse and normal maps.
All of the models have a polygon count of around 50,000, and have accurate real-world scales. They're triangulated meshes, so they're designed for use in still renders, not animations.
Commercial scans of people and animals also available
To download the files, you will need to register an account with Renderbot first.
The registration process is a bit odd (at one point, you have to log in via a WordPress screen), but when I tried earlier today, I managed to download two of the free models successfully.
As well as the free models, Renderbot currently has just over 500 commercial scans of people, animals and skeletons, most priced at around $20-80, or $100-200 for model collections.
Licence conditions
Renderbot's free 3D scans are available for use in commercial projects. The site's royalty free licence extends for a period of one year from the point of purchase or download.
Download free 3D scans of people and animals from Renderbot
Tags: 3D animal, 3d character, 3D figure, 3D model, 3D printing, 3D scan, 3ds max, 8K textures, arch viz, background character, child, commercial use, dog, download, FBX, female, free, licence conditions, male, MAX, mid resolution, OBJ, poly count, Renderbot, royalty free, scanned 3D character, STL, stock character, textures, visualization, WRL