Friday, July 31st, 2020

Posted by Jim Thacker
Sneak peek: Substance Alchemist's IBL creation system

Adobe has previewed a new automatic image-based lighting (IBL) creation feature in development for a future release of Substance Alchemist, its material authoring software.
The system will import sets of source photos and assemble them into HDR environments that users can customise by adjusting parameters like temperature, or even adding entire new synthetic lights.
The feature was unveiled yesterday during a livestream on Adobe's 3D and augmented reality tools, the recording of which is embedded above. The Substance Alchemist section starts at 00:36:10.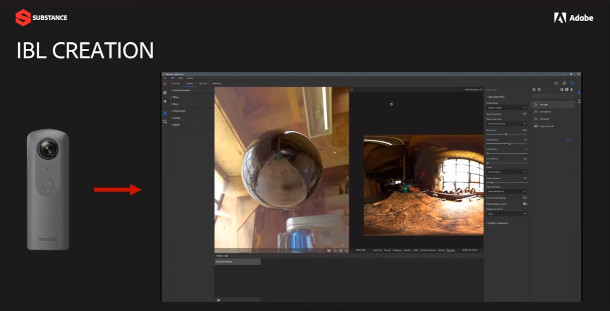 Convert sets of source photos into customisable HDR environments within Substance Alchemist
As with the Image to Material system introduced in Substance Alchemist 2020.2, the new IBL creation system will process source photographs automatically within the software.
In this case, that means sets of photos of real-world environments of varying exposures: those in the tech demo were taken with one of Richoh's 360-degree Theta cameras.
A "series of filters" within Substance Alchemist will then automatically assemble the images into an HDR lighting environment for the software's 3D material preview.
Users will be able to adjust parameters like exposure or light temperature through a series of slider controls, or even add new synthetic lights to the HDR: a workflow similar to that in tools like HDR Light Studio.
The demo showed a virtual neon tube being added to the ceiling of a real-world HDR environment.
Pricing and availability
Adobe hasn't confirmed whether the IBL creation system will become available in the next release of Substance Alchemist: if the firm sticks to its current numbering conventions, Substance Alchemist 2020.3.
The current stable release, Substance Alchemist 2020.2, is available for 64-bit Windows 8+, CentOS 7.0/Ubuntu 16.04+ Linux and macOS 10.12+.
The software is only available as part of Adobe's Substance subscriptions, which also provide access to Substance Painter and Substance Designer, plus downloads from online asset library Substance Source.
Indie subscriptions, intended for users with revenue under $100,000/year, cost $19.90/month or $219/year. Pro subscriptions cost $99.90/month or $999/year.