Thursday, April 30th, 2020

Posted by Jim Thacker
CLO Virtual Fashion ships Marvelous Designer 9.5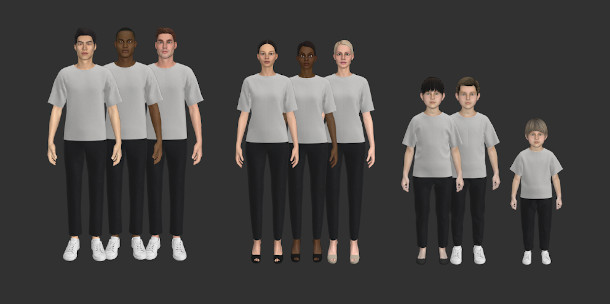 CLO Virtual Fashion has unveiled Marvelous Designer 9.5, the latest update to the 3D clothing design tool, adding a new automated retopology system for converting clothing to quad-based meshes.
The release also adds new features for manually editing 3D clothing meshes; a new, more diverse set of built-in 3D avatars; and the option to create custom tool groupings in the interface.
Convert 2D patterns into animated 3D clothing
Widely used by games and animation studios, Marvelous Designer enables artists to design garments in the same way as real-world clothes, by stitching virtual pattern parts together.
Users can import a character model in OBJ or Collada format to drape clothing over, then export the result back to a 3D application as an OBJ, or in the Maya cache, PC2 or MDD point cache formats.
The 3D clothing responds to gravity and wind forces, and the resulting simulations can also be exported.

New in Marvelous Designer 9.5: automated retopology, and new controls over the form of 3D meshes
New features in Marvelous Designer 9.5 include Remeshing to Topology: an automated retopology system.
It converts the dense triangular mesh that the software generates by default to a lower-density, quad-based mesh more suitable for animation or simulation.
Users can choose a target geometry count, but there aren't any options to guide edge flow of the sort you might expect in conventional DCC applications, and it seems to require a lot of clean-up.
In the video above, the user can be seen manually merging and reshaping polygons to remove remaining triangles and ensure even spacing around the edges of each pattern piece.
Other changes include a brush-based system to partially freeze areas of the 3D mesh before deforming it manually to edit the form of a 3D garment.
There is also a new system of 'linear avatar tapes', which improves the fit of a garment to a 3D character at clothing seams and pattern lines.
Other changes: new default 3D avatars with a range of ages and ethnicities, custom tool groups
Other changes in Marvelous Designer 9.5 include a new, more diverse set of default 3D avatars over which to drape clothing, shown in the image at the top of the story.
Interface changes include the option to create cutom tool groupings to "minimise the problem of hidden tools when using the standard layout", and new icons for the 2D Pattern window.
Pricing and availability
Marvelous Designer 9.5 is available for Windows 7+ and OS X 10.8+. A perpetual personal licence costs $490; rental starts at $50/month. Enterprise licences are also available.

Read a full list of new features in Marvelous Designer 9.5 on the product website