Monday, February 17th, 2020

Posted by Jim Thacker
Download Reallusion's CrazyTalk Animator 3 Pro free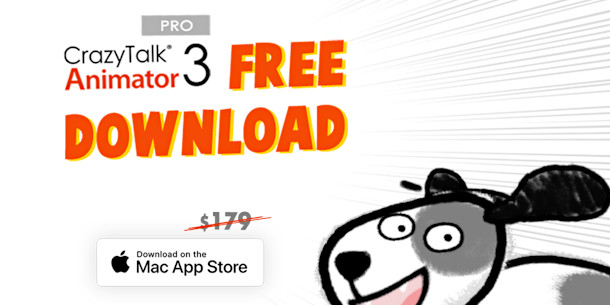 Reallusion has released CrazyTalk Animator 3 Pro – the previous version of its 2D animation software, now known as Cartoon Animator – for free on macOS.
The software, which previously sold for $179, is free to download until 1 April 2020.
A chance to shape the development of future releases
According to Reallusion's forum post, making CrazyTalk Animator available free is both an apology for the software's previous poor performance on macOS, and a call for feedback on future development.
"No matter which generation, the Mac version of CTA … constantly suffered from issues caused by its natural restrictions and compatibility," it reads.
"In order to provide users with a stable … environment [for] creation. Reallusion [is releasing] CTA 3 Pro on [the] Mac store [for] free."
Reallusion is asking people downloading the software to leave their feedback on what to change in future releases in the forum comments thread Mac App Store comments.
The firm will then "try to fulfill all the feasible wishes", and will pick five specific users "to reward them and announce their contribution on [the] CTA home page".
We contacted Reallusion to ask what the reward consists of, but they declined to announce it, saying that they wanted it "to be a surprise" for the selected users.
The original issues – notably, conflicts with particular versions of macOS – can be gauged by browsing Reallusion's support forum for CrazyTalk Animator 3: worth a look if you plan to download the software.
System requirements and availability
CrazyTalk Animator 3 Pro is available free for Mac OS X 10.9+ until 1 April 2020. The software was originally also available for Windows, as is its successor, Cartoon Animator.
Read more about CrazyTalk Animator 3 Pro for macOS becoming free on Reallusion's forum
(Includes download link to the free version)