Monday, July 15th, 2019

Posted by Jim Thacker
Sneak peek: Nuke 12.0's upcoming Inpaint tool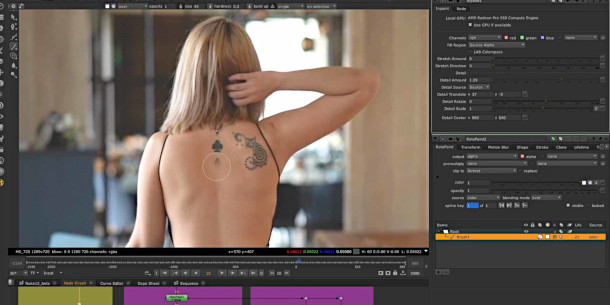 Foundry has posted a sneak peek at the new Inpaint tool coming up in the Nuke 12.0 family, the next major update to its line-up of compositing and editorial software.
The GPU-accelerated tool, described as being similar to Photoshop's Healing Brush, is intended as a fast way to clean up footage, particularly when removing wires and tracking markers.
An intuitive tool for plate cleanup and texture transfer
Foundry's Nuke newsletter pitches Inpaint as a "quick and intuitive" tool for plate cleanup, describing it as similar to the Healing Brush in Photoshop.
It is intended to enable users to paint out objects like wires, markers or blemishes seamlessly, with Nuke transferring high-frequency detail from a sample point elsewhere in the frame.
Users can also sample from a second reference image, making it possible to paint in areas of a clean background plate, or even clone new textures into the image.
Both paint strokes and roto shapes can be used to define the Inpaint region; and the direction of the Inpaint can be further controlled by the Stretch knobs in the user interface.
Pricing and availability
Nuke 12.0 is currently in closed beta. Foundry hasn't announced a final release date.
The current releases, Nuke 11.3, NukeX 11.3 and Nuke Studio 11.3, are available for 64-bit Windows 7 and 10, CentOS 6+ Linux, and macOS 10.12+.
Node-locked and floating licences of Nuke cost $4,758. NukeX costs $8,853. Nuke Studio costs $10,248.
Read more about Nuke 12.0's upcoming Inpaint tool in Foundry's newsletter