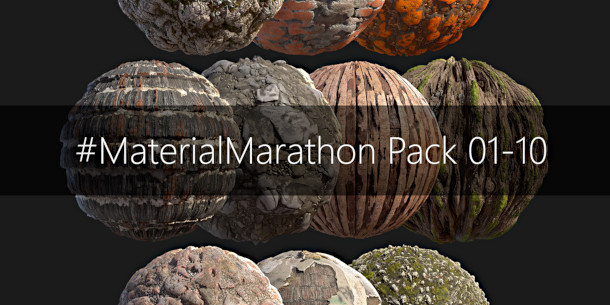 Originally posted on 19 May 2019. Scroll down for news of other free material packs.
Nikola Damjanov, lead artist at mobile game developer Nordeus, has released #MasterialMarathon Pack 01-10, a set of 10 free PBR rock, wood and ground materials.
The materials are provided as sets of 2K texture maps – ambient occlusion, base color, height, normal, opacity, metallic, roughness and specular – and are licensed for commercial use.
Part of a material-a-day marathon in Substance Alchemist
The materials were created as an attempt to create a material (almost) every day for around 120 days, resulting in a grand total of 100.
All of the assets were created in upcoming material authoring tool Substance Alchemist, for which Damjanov is a beta tester.
You can read an interview about the project here, while the full set of 100 materials can be seen in Damjanov's ArtStation gallery.

Updated 13 June 2019: Damjanov has now released five packs of 10 free textures from the project. Keep checking his Gumroad store for future texture pack releases.

Download the files for free, or make a voluntary donation
The materials packs are free to download, but if you like the files, you can enter a figure in Damjanov's Gumroad store to make a 'thank you' donation.
Note: the download from Gumroad is a text file with the URL of a shared Google Drive that contains the files.
Download the free materials packs from Nikola Damjanov's Gumroad store
Tags: #MaterialMarathon Pack 01-10, 2K, download, free, ground, material, Nikola Damjanov, pavement, PBR, rock, Substance Alchemist, texture map, wood