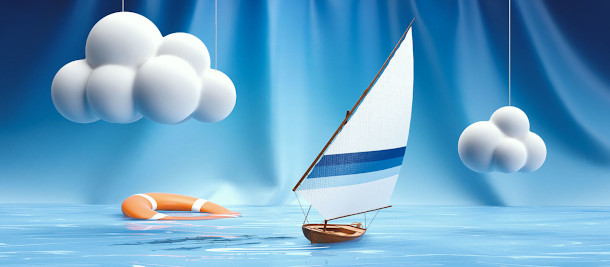 Updated 17 July 2019: This story originally referred to the release as Dimension CC 2.1. According to Adobe's online changelog, CC 2.1 is December 2018's bugfix update, making this Dimension CC 2.2.

Adobe has released Dimension CC 2.2, the latest update to its 3D rendering and compositing software aimed at "graphic designers, not 3D experts".
The update adds experimental support for cloud rendering from inside Dimension, plus support for Substance materials, new options for texturing 3D objects, and support for real-world scale units.
The software's original V-Ray-based renderer has also been removed in favour of Adobe's own engine.
A designer-friendly drag-and-drop 3D rendering and compositing tool
Originally codenamed Project Felix before its commercial release in 2017, Dimension CC is intended to enable graphic designers with little experience of 3D tools to incorporate 3D elements in their work.
Users can import 3D models created in other software, assign materials, textures and HDRI lighting via a simple drag-and-drop workflow, and render images as layered PSD files for post-processing in Photoshop.
Experimental support for in-app cloud rendering
The latest update adds experimental support for cloud rendering from within Dimension. Adobe's cloud rendering service is credit-based, with renders priced at 1-3 credits each, depending on resolution.
Users get 15 free credits per month while the service is in beta, and renders are also denoised automatically during the beta period. Adobe hasn't announced how much credits will cost once the service launches fully.
Support for Substance materials and real-world scene units, more graphics placement options
Other new features include support for procedural materials created in Allegorithmic's Substance Designer in .sbsar format, adding to Dimension's existing support for MDL materials.
The functionality is the first sign of further integration between Adobe and Allegorithmic's software since Adobe bought Allegorithmic earlier this year.
In addition, 2D graphics can now be placed onto 3D objects as decals or as seamlessly tiling fills, and should maintain a higher resolution, resulting in less visible pixelation.
Graphics can also now be saved in online CC Libraries, meaning that when the source file is edited in Photoshop or Illustrator, the graphic will update automatically inside Dimension.
The update also adds support for real-world scene units, making it easier to scale 3D representations of real objects, like packaging, to match their physical counterparts.
V-Ray render engine deprecated in favour of Adobe's own renderer
One other interesting change in Dimension CC 2.2 is that the original rendering engine, which used the same core technology as V-Ray, has now been removed in favour of Adobe's own Adobe Rendering Engine.
That's a pretty quick transition, given that the new engine was only introduced as part of Dimension CC 2.0 last October, and means that the V-Ray engine lasted in the commercial product for less than 18 months.
According to Adobe, "support for external rendering engines may be considered in the future".

Updated 9 April: We contacted Adobe to ask about the reasons for the switch, who told us that it has decided that rendering is a "core competency" for the company.
"You can imagine the Dimension renderer being used in other Adobe products, for example, and certainly expect it to benefit from our Sensei technology and research initiatives."
Asked whether the new engine outperformed V-Ray, Adobe told us: "It's not that we're making a renderer that is faster than others, per se. But [by writing our own engine], we can make better optimisation decisions."
"With a common platform, our ray tracer and real-time renderer share memory – this gives us a few seconds of performance improvement, but more importantly, reduces memory consumption: critical on lower-powered machines."
The firm also noted that it was aiming to keep Dimension's UI simpler than that of a traditional DCC application by "mak[ing] intelligent decisions about render settings based on the contents of the scene".

Pricing and system requirements
Dimension CC 2.2 is available for Windows 10 and macOS 10.12+ on a rental-only basis. A subscription to Dimension alone costs $20.99/month; a subscription to all of Adobe's creative tools costs $79.49/month.
Read a full list of new features in Dimension CC 2.2 in the online documentation

Full disclosure: in my other life as a freelance writer, I've written blog posts for Adobe about Dimension CC. CG Channel itself has no financial connection with Adobe or Dimension CC.
Tags: Adobe, Adobe Dimension CC 2.2, Adobe Rendering Engine, Allegorithmic, April 2019, CC Libraries, compositing, Dimension, Dimension 2.1, Dimension 2.2, Dimension CC, Dimension CC 2.1, graphic design, illustrator, material, MDL, new features, Photoshop, price, rendering, SBSAR, scene units, Substance, Substance Designer, system requirements, V-Ray