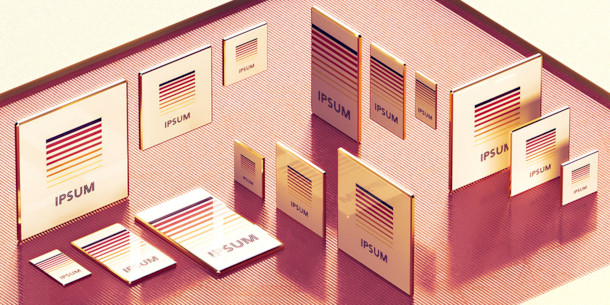 Adobe has released Dimension CC 2.3, the latest update to its 3D rendering and compositing software aimed at "graphic designers, not 3D experts".
The release adds a new widget for evenly distributing objects, makes it possible to export individual models from the software, and introduces an experimental new feature for publishing content online.
A designer-friendly drag-and-drop 3D rendering and compositing tool
Originally codenamed Project Felix before its commercial release in 2017, Dimension CC is intended to enable graphic designers with little experience of 3D tools to incorporate 3D elements in their work.
Users can import 3D models created in other software, assign materials, textures and HDRI lighting via a simple drag-and-drop workflow, and render images as layered PSD files for post-processing in Photoshop.
New in Dimension CC 2.3: new options for aligning 3D objects, exporting models, and publishing scenes
New features in the latest update include Align and Distribute, a new option for aligning 3D objects along a given scene axis, or spacing them evenly along an axis.
It is also now possible to export individual 3D models from Dimension, as well as saving an entire scene.
Supported export formats include the glTF format for interchange of real-time 3D data – both .glb and .gltf files are supported – plus OBJ and Dimension's native DN format.
The update also introduces a new feature for publishing Dimension scenes online via iframe embedding.
It's officially still in beta, and currently has no options to manage who can access published content – important for client reviews – something Adobe says is "actively being worked upon",
Adobe Rendering Engine, the new render core introduced in the previous update in place of the original V-Ray-based core, has also been updated with "better translucency and peformance" in real-time previews.
Render denoising – based on Adobe's Sensei machine learning technology – gets "significant visual improvements", and is now on by default.
Other new features in Dimension CC 2.3 include the option to use SVG files in any image input. You can find a full list of changes via the link below.
Pricing and system requirements
Dimension CC 2.3 is available for Windows 10 and macOS 10.12+ on a rental-only basis. A subscription to Dimension alone costs $20.99/month; a subscription to all of Adobe's creative tools costs $79.49/month.
Read a full list of new features in Dimension CC 2.3 in the online documentation

Full disclosure: in my other life as a freelance writer, I've written blog posts for Adobe about Dimension CC. CG Channel itself has no financial connection with Adobe or Dimension CC.
Tags: Adobe, Adobe Rendering Engine, AI-based, Align and Distribute, compositing, Dimension, Dimension 2.3, Dimension CC, Dimension CC 2.3, export, GLB, glTF, graphic design, iframe, July 2019, machine learning, new features, OBJ, price, product visualization, publish scene online, render denoising, rendering, Sensei, SVG, system requirements, V-Ray