Sunday, February 24th, 2019

Posted by Jim Thacker
Get CGWire's free production-tracking spreadsheets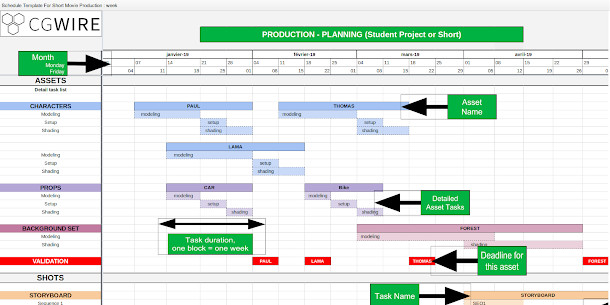 Earlier this week, we covered Kitsu, CGWire's lightweight production-tracking tool, which it describes as "better than Excel, cheaper than Shotgun".
However, if you still want to stick with Excel – or any other software that opens spreadsheet files – for your production work, the firm also has a nice range of free templates that you can download.
There are two spreadsheets for scheduling projects, one for shorts and one for episodic TV; plus one for casting projects; and one for tracking retakes.
The documents are annotated and partially automated, with formulae already set up.
Licensing and system requirements
The files can be downloaded in XLS, ODS and PDF format, or opened directly in Google Spreadsheets. They are available under a Creative Commons non-commercial share-alike licence.
Download the free production-tracking spreadsheets from CGWire's website