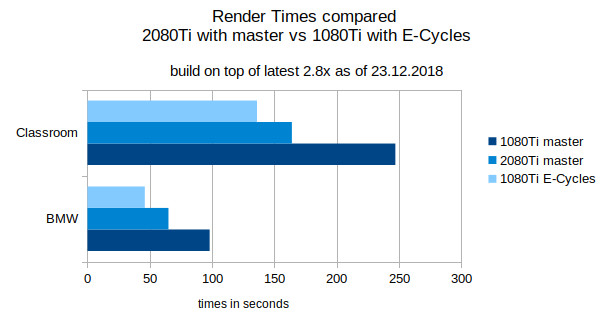 Developer Mathieu Menuet has released E-Cycles, an optimised version of Blender's Cycles render engine that he claims can more than double rendering speed when using CUDA GPUs.
It's a separate commercial product to Blender itself, but Menuet plans to release weekly builds incorporating new optimisations made in the core software.
Up to 2.42x faster than standard Cycles when rendering on Nvidia's CUDA GPUs
In Menuet's tests with the standard Cycles benchmark scenes, E-Cycles renders 1.23x to 2.42x faster than the Blender master on a GeForce GTX 1080 Ti GPU.
The speed boost varies from graphics card to graphics card: user results posted in this thread on BlenderArtists.org suggest that it may be larger with more powerful – or at least, more recent – GPUs.
It also works with AMD graphics cards running under OpenCL, although the speed boost is smaller: in Menuet's tests, the standard scenes render 1.06x to 1.28x faster with a Radeon RX Vega 64.
According to Menuet, CPU rendering using Open Shader Language is also faster, but at the minute, E-Cycles is mainly intended for GPU rendering.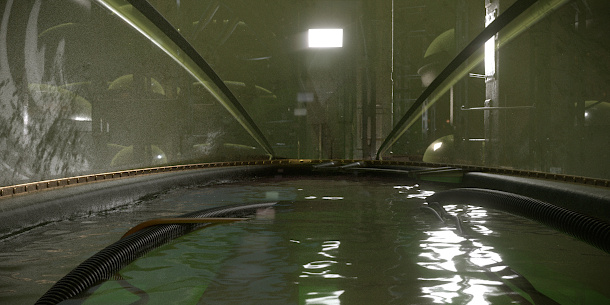 This test scene posted by user Komposthaufen on the BlenderArtists.org thread renders over 1.5x faster in E-Cycles than the Blender master on a Nvidia GeForce GTX 980 GPU.

In the forum thread, Menuet is cagey about revealing exactly how E-Cycles differs from regular Cycles, but the source code is available as part of his commercial Blender programmming course.
He also says that after a year on sale, each new feature will be uploaded for review on the official tracker for possible inclusion within the Blender master.
System requirements and pricing
E-Cycles is available for Blender running on Windows or Linux. It's built on the still-in-beta Blender 2.8, so until a stable build of 2.8 is released, the usual caveats apply about using it in production.
Updated 5 April 2018: Since we originally covered E-Cycles, Menuet has released a build for Blender 2.7x.
The software currently costs €85 (around $95) for a perpetual licence of the 2.8x edition; €169 for a perpetual licence for 2.7x and 2.8x; or €14/month rental for 2.8x.
Perpetual licences come with free weekly updates until the end of the year.
Read more about E-Cycles for Blender in the product thread on BlenderArtists.org
(Includes links to buy the software)
Tags: Blender, Blender 2.8, CUDA, Cycles, E-Cycles, GPU rendering, Mathieu Menuet, OpenCL, price, renderer, rendering, system requirements