Friday, October 19th, 2018

Posted by Jim Thacker
Martin Wengenmayer releases Cheetah3D 7.3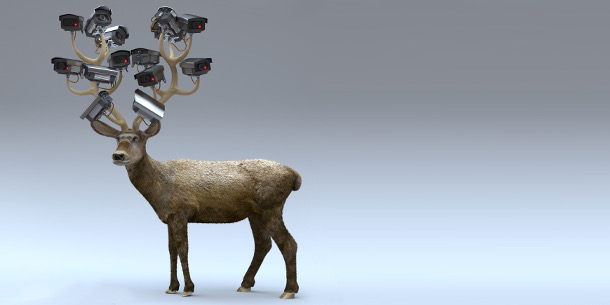 An image created in Cheetah3D by user Frank Beckmann. The recent 7.0 release of the Mac-only 3D software was described as the biggest upgrade in Cheetah3D's history, adding over 100 new features.

Originally posted on 6 October 2017. Scroll down for news of the 7.3 update.
Developer Martin Wengenmayer has released Cheetah3D 7.0, the latest update to the low-cost Mac-only 3D software, adding a new unbiased renderer, a new Boolean system and "full OpenEXR workflow".
The update – the first major new version since 2012 – is described as the biggest in Cheetah3D's history.
A $99 Mac-only 3D app with a steady cult following
Starting life as a spare-time programming project, Cheetah3D has maintained a steady following since its original release in 2003, mainly among home users and independent artists.
The feature list includes a standard basic range of polygonal modelling, 3D painting, keyframe animation and dynamics tools, including support for Bullet physics.
Cheetah3D 7.0: a complete revamp of the UI and core code
The first major new version of the software in over five years, Cheetah3D 7.0 extends that list significantly, and completely overhauls the core code.
"As a 15-year-old project, a big clean-up of the underlying architecture and a refresh of the UI was more than overdue," wrote Wengenmayer when the update was originally released in beta last year.
In the case of the architecture, that means that Cheetah3D is now a fully 64-bit application with a "much reduced" download size and "many small speed-ups throughout the app".
In the case of the UI, it means a redesign for macOS 10.13 High Sierra, which Apple released last month, including a complete new icon set and use of the default system font.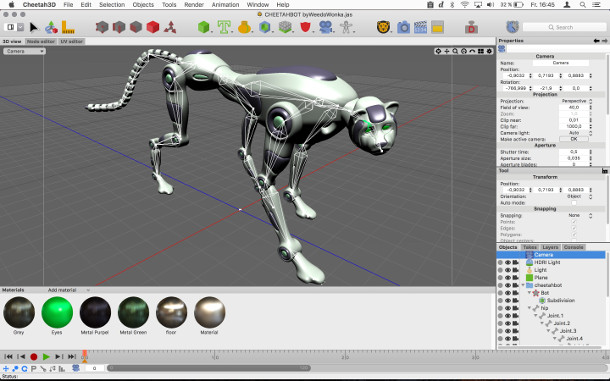 New unbiased render engine and Boolean system, many other key tools
Although there are few changes to the animation or dynamics toolsets, the update revamps pretty much every other part of the software, with the headline feature being a complete new rendering engine.
A unidirectional path tracer, the new Falcon renderer gives Cheetah3D support for camera and object motion blur, and is supported by a new physically based BRDF material system, shown in the image above.
The update also promises a "considerable" reduction in memory use and improvement in rendering speed.
There is also a new Boolean system integrating the open-source carve library. It supports n-gons and preserves edge and polygon selections and material assignments.
Version 7.0 also brings the software more in line with current 3D workflows, adding a number of features long standard in other DCC tools, including layers, soft selections, and support for animated textures.
In addition, the update adds full support for the Collada and OpenEXR formats – you can import, edit and export textures in OpenEXR 2 format – and improves SVG support.
There is a long list of smaller features, workflow and performance improvements: the online release notes run to well over 100 bullet points.

Updated 12 December 2017: Cheetah3D 7.1 is now available. The update adds a mesh simplification tool for automatically reducing the poly count of an object, plus a new Loft creator object.
The text spline object has also been extended, adding support for font size, character and line spacing, and multiple lines of text.
Falcon, the new unbiased render engine, gets support for normal compression, meaning that geometry uses "approximately 20% less RAM". You can find a full list of other changes and bugfixes via the link below.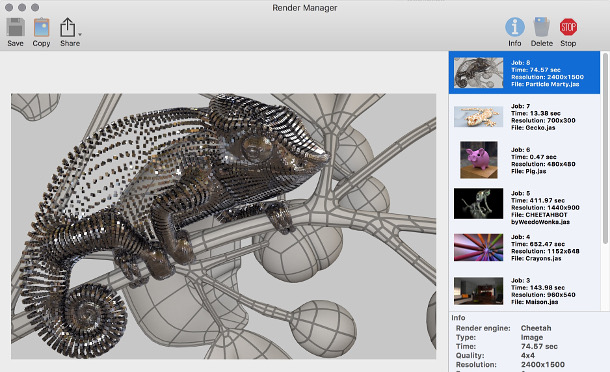 Updated 27 March 2018: Cheetah3D 7.2 is now available.
The update moves the software's video import/export system to Apple's AV Foundation framework, improving export speed, and adds support for the HEVC, ProRes 422 and ProRes 4444 formats.
Falcon gets support for IES lights, filmic tonemapping, and soft shadows from non-physical light sources.

Updated 19 October 2018: Cheetah3D 7.3 is now available. The update introduces a new dark UI theme, via support for Dark Mode in the recently released macOS 10.14.
Other key features in the release include support for PBR shaders, based on the widely supported Disney principled shading model. Falcon gets support for rendering refractive caustics.
Cheetah3D also becomes the latest product to support glTF, the increasingly popular data interchange format for web and real-time applications, with the option to export both .gltf and .glb files.

Pricing and availability
Cheetah3D 7.3 is available for Mac OS X 10.8.5 and above. It costs just $99.
Read a full list of new features in Cheetah3D 7.0 to 7.3 on the product website