Friday, September 7th, 2018

Posted by Jim Thacker
Gravity Sketch releases Gravity Sketch VR 1.5

Gravity Sketch has released Gravity Sketch VR 1.5, the latest update to its virtual reality 3D design software, adding support for groups, orthographic views, and a new surface patching tool.
The firm describes the software as "providing the power of a CAD package in a VR tool", enabling users to design in virtual space, then export in a format usable in real industrial design pipelines.
However, it is also already being used in production in concept design for entertainment, and the developers plan to increase interoperability with DCC tools – about which, more later.
Sketch in virtual space, then generate a production-ready 3D model from that sketch
We covered Gravity Sketch VR last year when it was first released. However, the toolset has been fleshed out considerably since then, so it's worth a recap of what the software can do.
For sketching, you get an Ink tool, which enables you to draw in space, with curve thickness determined by the speed of the gesture and pressure on the trigger of the VR controller.
The software supports 3D layers, making it possible to sketch on one layer, then use the Stroke tool – which gives consistent thickness – to draw final curves on another, akin to inking a 2D drawing.
It's also fully procedural, making it possible to edit the form of a stroke by moving control points.
3D surfaces can be created using the Revolve tool to lathe forms around a reference axis, or drawn freehand using the Curved Surface tool, which controls both the sweep and profile of the surface simultaneously.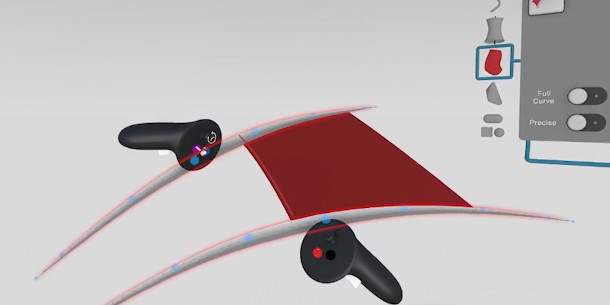 With version 1.5, it is also possible to patch two curves together to create a surface, which opens up a workflow similar to edge modelling in a standard DCC app – with the benefit that rather than importing a 2D reference sketch to work from, you can actually snap to the strokes of the sketch in 3D space.
Texturing is currently confined to basic surface colours – full UV texturing is in development – but it's possible to apply a set of readymade HDRI lighting environments.
Models can be captured as a 2D image using a Screenshot tool, or exported in OBJ, FBX or IGES format.
There is also a Rhino plugin, available to users on subscription plans, which preserves the parametric information for a model when it is imported into the software.
New in Gravity Sketch VR 1.5: patches, groups and orthographic views
Gravity Sketch VR 1.5 further extends the feature set: as well as being able to patch curves or surfaces together, users can now group objects and work in orthographic views.
At the time of posting, the new features don't seem to be listed on the Gravity Sketch website, so below, we've reproduced the full feature summary from the company's press release.
Taper mode
This setting allows artists to draw any length of stroke and always have tapered ends. Ink tool
Draw with Normals
When artists draw with a non-round brush, the shape of the stroke will do a much better job matching the rotation of the controller.
Edit Normals
This feature allows artists to edit the twist of strokes along their path (think square brush).
Depth of Field + Square Snapshot
Artists can now add a depth-of-field effect to their snapshots, and take square pictures ready for the gram!
Orthographic Views
Accessed from a new menu on the advanced panel, artists can now view their model from top/front/side orthographic viewports, then grab the panels off and take screenshots of them directly!
Export Options
Gravity Sketch now has improved export layout and settings for .obj, .fbx and .iges, which give artists more control over the export process and improve compatibility with popular design tools.
Sketch Materials
The replacement to color history allows artists to re-use materials much more accurately in their current sketch.
Super Ellipsoid
This new primitive allows artists to adjust extra parameters to create interesting shapes.
Filled Solid
Artists can now create new filled shapes in non-planar mode.
Simple Grouping
Artists can now create groups of objects, which they can then move and manipulate.
Connect Curves
Artists can now automatically patch two curves/splines/surfaces together.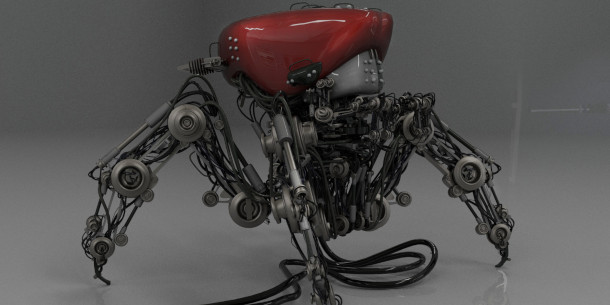 Use cases for Gravity Sketch VR include both product and entertainment design: this 'spider tank' was created in Gravity Sketch and rendered in Redshift for Cinema 4D by digital sculptor Glen Southern.

For entertainment as well as industrial design
According to Gravity Sketch, what separates Gravity Sketch VR from other VR sketching tools like Google's Tilt Brush or Oculus's Quill and Medium is its ability to create and export parametric models.
Speaking to CG Channel, CEO Seyi Sosanya commented that while "character creation may be more intuitive in a voxel-based tool like Medium … it won't necessarily expedite your workflow".
In contrast, rather than being intended primarily for ideation, the geometry that Gravity Sketch VR creates can be reused further down a production pipeline.
While that clearly lends itself to product design, Gravity Sketch tells us that the software is also being used in production in entertainment: primarily in concept design work for props and environments.
The firm plans to implement subdivision modelling in "early 2019", and while the next integrations are likely to be with industrial design tools like Alias and Fusion 360, it is also looking at Maya, Cinema 4D and Modo.
Pricing and availability
Gravity Sketch VR 1.5 is available for Windows 7+ and macOS 10.13+. You will need a VR headset and controllers to make use of it: it supports the HTC Vive, Oculus Rift and Windows Mixed Reality.
A standard perpetual licence now costs $29.99, and provides access to most of the modelling tools, support for up to four layers, and export in OBJ format.
On top of that, there are three subscription plans, which provide access to more tools, control point snapping, support for up to 12 layers, and export in FBX and IGES format.
Pro subscriptions, for anyone earning over $10k/year from GravitySketch, cost $29.99/month; Studio subscriptions, for anyone earning $100k-10M/year, costs $99.99. Enterprise subs are priced on enquiry.

Read more about Gravity Sketch VR on Gravity Sketch's website