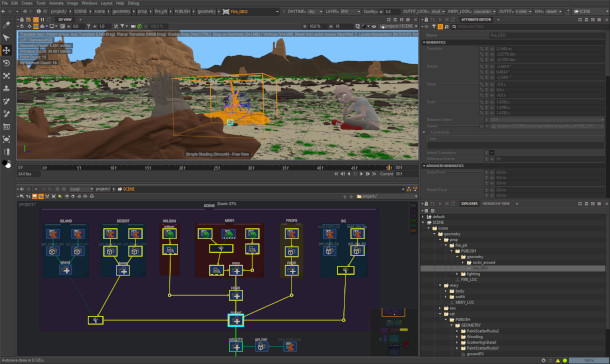 Isotropix has launched Clarisse Builder, a super-charged new version of its layout, look development and rendering software aimed at studios working on very large VFX and animation projects.
The new product – it's actually officially stylised 'Clarisse BUiLDER', while the original software has reverted to its old name of 'Clarisse iFX' – was unveiled at the firm's London keynote event yesterday.
A higher-end version of an already high-end VFX and animation tool?
On the face of it, Clarisse iFX is already a tool aimed at studios working on very large projects.
Combining features of conventional renderers, compositors and general-purpose DCC tools, it is intended to enable artists to develop heavy production scenes while interacting continually with the final image.
Since 2016, the software has been used on over 80 films and TV series: notably, by Double Negative, which used it on Pacific Rim Uprising and in its Oscar-winning effects for Blade Runner 2049.
According to Isotropix, Clarisse Builder – a "high-end superset" of the original application – is aimed squarely at those kinds of Tier 1 studios: currently, just over half of its user base.
However, if that's not you, don't switch off just yet: Isotropix expects some of the work done on Builder to filter down to iFX – especially the optimisations to the scene engine.
Designed to meet the needs of both TDs and look dev and lighting artists
"For the past year, we've been listening to major studios' needs and a few interesting things came up," Isotropix CEO Sam Assadian told CG Channel in a briefing ahead of yesterday's announcement.
"What makes artists happy doesn't necessarily make TDs happy … artists prefer interactivity, whereas TDs prefer a dedicated tool to set up and debug scenes."
"A lot of the time they [TDs] only need to modify a single parameter. They don't want to wait for a scene to load before starting work on it.
Clarisse Builder is an attempt to satisfy both camps, adopting the deferred assembly construction process used in tools like Foundry's Katana.
That lets TDs load an editable representation of the scene much more quickly, while still enabling artists to see an accurate representation of the changes they make to a scene in real time.
Assadian describes it as a "completely new workflow to micro-manage [assets] at the sequence level" and the "next revolution in VFX and animation pipelines".
The six toolsets inside Clarisse Builder
Clarisse Builder consists of six constituent toolsets:
Scene Assembly
Sequence Lookdev
Sequence Lighting
Render Management
Shot edits/layering
Precomp
In practice, that means the same set dressing, look dev, lighting and rendering tools as Clarisse iFX, but wrapped up inside a scene graph that also permits nodal scene assembly and compositing.
According to Isotropix, this allows lighting artists "to perform non-destructive edits on an environment at sequence, shot or layer level, all while viewing the interactive output of their slap comp".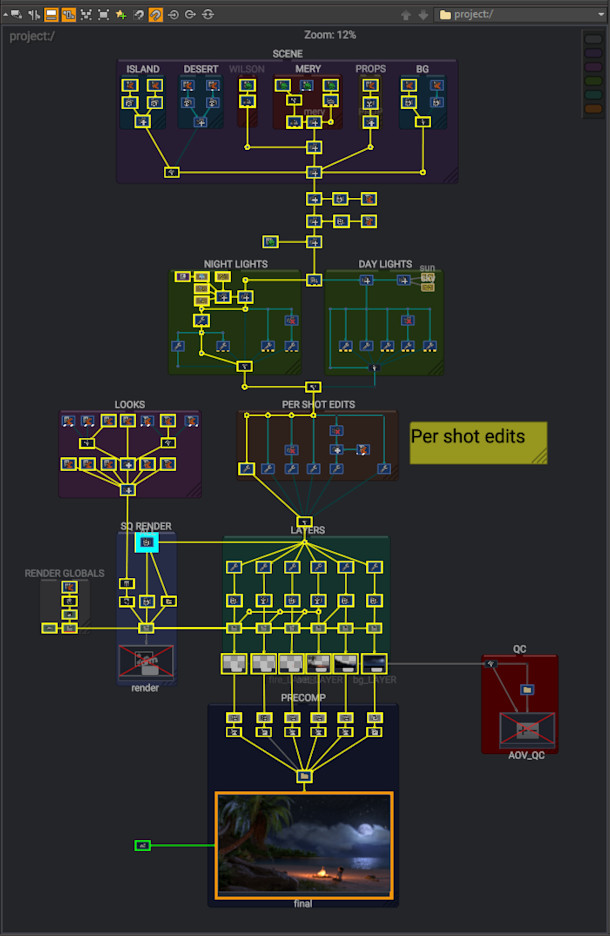 The structure of the scene graph
The demo scene above shows a six-shot animation sequence, each shot with 36 variations of the character and environment, represented as a single graph.
Switch nodes control which of the 216 resulting permutations is displayed in the final precomp view at the foot of the graph, making it possible to cycle quickly between shots, or between variant looks for a shot.
As well as editing the scene at a node level, changes can be made directly in the precomp view.
All edits are non-destructive, and Builder only calculates the deltas, so the visual preview updates quickly even when changing animations.
In Isotropix's demo, the graph interface looked logical and well-structured, and nodes come with their own individual output previews, helping to troubleshoot a scene.
Pricing and availability
Clarisse Builder is available for Windows 7+, RHEL/CentOS 6+ Linux and Mac OS X 10.9+.
As you might expect of a high-end tool, it's priced on enquiry: at the original briefing, Isotropix told us that it expected the price to be in the region of $5,000-10,000 per seat.
Clarisse iFX itself costs $899 for a node-locked Indies licence and $2,899 for a floating Studios licence.
An Indies licence of CNode, the headless version of Clarisse designed for render farms, costs $499; a Studios licence costs $899. Clarisse Builder is compatible with existing licences of CNode.

Read more about Clarisse Builder on Isotropix's product website
Tags: animation, Clarisse, Clarisse Builder, Clarisse iFX, compositing, Featured Articles, interactive, Isotropix, LayOut, lighting, look dev, look development, new product, nodal, node-based, precomp, price, real time, scene graph, system requirements, TD, vfx, visual effects