Wednesday, May 16th, 2018

Posted by Jim Thacker
Put clothes on nude statues and win Nvidia graphics cards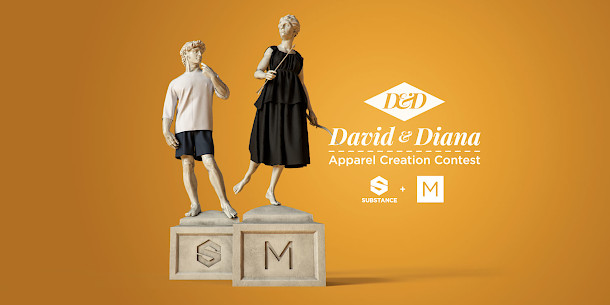 In one of the more creatively themed CG art competitions we've seen, Allegorithmic and CLO Virtual Fashion have challenged their users to design new outfits for two famously naked statues.
To enter the David & Diana: Apparel Creation Contest, artists must design virtual clothing – "from goth to space suits" – for 3D recreations of Michaelangelo's David and Jean-Antoine Houdon's Diana.
Download eight free fabric materials in Substance format to help with your entry
If that piques your interest, you have until 26 June 2018 to enter, with the winners – selected by a jury that includes sportswear designer Gaëtan Aguado – due to be announced at Siggraph in August.
There are separate categories for student and professional artists, with prizes including Nvidia's Quadro Pascal GPUs, a Wacom Cintiq pen display and an HP DreamColor monitor.
All texturing must be done with Allegorithmic's Substance tools and clothing designed in CLO Virtual Fashion's Marvelous Designer, and you'll need to submit scene files for inspection as well as final renders.
To get you started, Allegorithmic has provided eight free fabric materials on its Substance Source website. (There are also currently eight further free materials, largely themed around space exploration.)
You can also download base models for both statues in FBX format, although they're only licensed for use during the contest itself.

Find out how to enter the David & Diana: Apparel Creation Contest on Allegorithmic's contest page
Download free fabric materials in Substance format from Substance Source
(Available at time of posting, but the exact materials available change regularly)