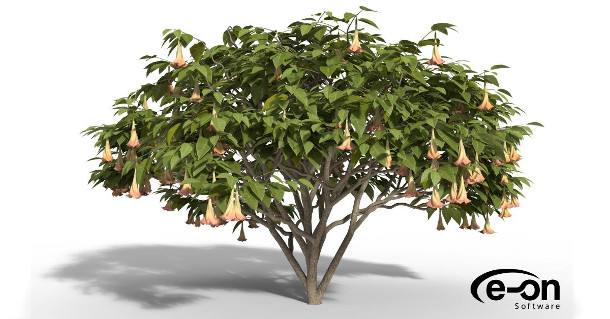 e-on software has released Vue 2016 R5, the latest version of its environment creation software, adding new LOD export options, better support for Ptex texture mapping, and four new environment mapping modes.
The company has also released PlantFactory 2016 R5, an update to the vegetation-creation software that adds a new Flower node, along with a number of UI improvements.
The releases are the first since the cyber attack that took down e-on's original product website in December, and from which the firm is still rebuilding its online services.
New in Vue 2016 R5: more LOD options, better Ptex support, workflow improvements
New features in Vue 2016 R5 include new options when generating Level of Detail objects, including the power to generate a user-defined number of LODs and to export objects as billboards.
Support for Disney-developed texture mapping system Ptex has been expanded, including a new Ptex node in the function graph, and support for Ptex in the export preview.
There are also four new environment mapping modes – LightProbe, Cylindrical, Cube Map and Compact Cube Map – in addition to the existing Spherical and Hemispherical modes.
Workflow has been improved: according to e-on, "navigation manipulation" has been "homogenised" throughout the UI, while keyboard shortcuts now mimic those of other common DCC tools.
The firm's press release notes that some features "may not be available in all software versions", but at the time of posting, the online documentation hasn't been updated to cover R5.
However, as far as we can tell, all of the new features should be available in the two professional edition of the software: Vue Infinite and Vue xStream.
New in PlantFactory 2016 R5: new Flower node, workflow and export changes
PlantFactory 2016 R5 is a smaller update, adding a new dedicated Flower node to the software's function graph, together with "additional metanode companion collection".
The new node is available only in the higher-end editions of the software: Designer, Studio and Producer.
There are also a number of workflow changes, including an option to invert the colours of normal maps generated, for better DirectX compability; and the camera angle for scene previews is now persistent.
The alpha and colour texture channels are also now merged to a single PNG image when exporting vegetation meshes, for smoother export to game engines.
Pricing and availability
Vue 2016 R5 is available now for Windows 7+ and macOS 10.12+. The update is free to existing users.
New licences of Vue Infinite cost $1,295; new licences of Vue xStream, which integrates Vue with 3ds Max, Cinema 4D, LightWave, Maya and Softimage, cost $1,695. Prices for lower-end editions can be found here.
PlantFactory 2016 R5 is available for Windows XP+ and Mac OS X 10.8+. Again, the update is free to registered users, while new licences of the software cost between $199 and $1,995, depending on edition.

Read a full list of new features in Vue 2016 R5 and PlantFactory 2016 R5 in e-on's press release
Visit e-on software's temporary website
(Orders and support requests are currently being processed manually)
Tags: billboard, Compact Cube Map, cube map, cylindrical, digital nature, e-on, e-on software, environment creation, environment mapping, Flower node, level of detail, LightProbe, LOD, new features, plant generation, PlantFactory, PlantFactory 2016 R5, PlantFactory Artist, PlantFactory Designer, PlantFactory Producer, PlantFactory Studio, price, Ptex, system requirements, vegetation generation, Vue, Vue 2016 R5, Vue Infinite, Vue Infinite 2016 R5, Vue xStream, Vue xStream 2016 R5