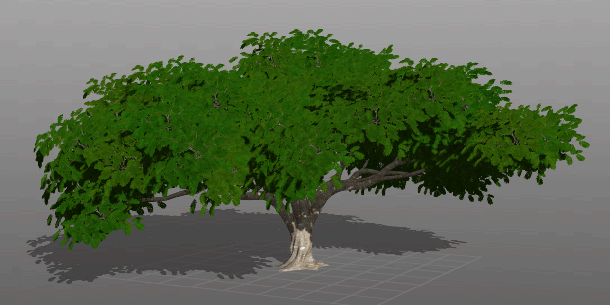 e-on software has released PlantFactory 2016 R2, the latest update to its line of software for creating animatable 3D plants, adding new options for generating low-poly vegetation for real-time work.
The update builds on the original PlantFactory 2016, released late last year.
New meshing and billboard options for generating low-poly plants for real-time work
One key change in PlantFactory is the new Stylized Meshing mode (shown above), which converts the bounding envelope of a plant model to low-poly geometry of the type you might see in a more stylised game.
Users can configure envelope resolution, smoothing and convexity quality to achieve a range of effects.
The update also introduces 3-Axis Billboard Leaves Rotation: a new features for randomising the orientation of leaves when generating them as 2D billboards rather than actual 3D geometry.
The feature reduces obvious visual repetitions when creating assets for real-time work.
Pricing and availability
PlantFactory 2016 R2 is available for 64-bit Windows XP+ and Mac OS X 10.6+. The base Artist edition costs $199, Designer costs $495, Studio costs $995, and Producer costs $1,995. See a feature comparion table.
Stylized Meshing is included in the Producer, Studio and Designer editions of the software, while billboard rotation is included in every version.
e-on software has also released PlantFactory 2016 R2 PLE, a free learning edition based on the Producer edition of the software. It comes with a number of export and rendering restrictions you can find listed here.
Read more about the new features in PlantFactory 2016 R2 on e-on software's website
Tags: 3-Axis Billboard Leaves Rotation, animation, billboard, e-on, e-on software, low-poly, new features, plant creation, plant generation, PlantFactory, PlantFactory 2016, PlantFactory 2016 R2, price, real time, Stylized Meshing, vegetation generation