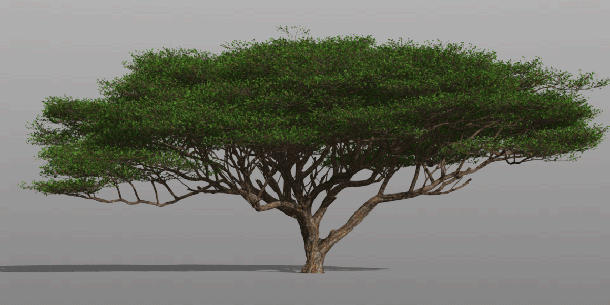 E-on software has shipped PlantFactory 2016 Release 3 (R3), its latest quarterly update to its line of software for creating animatable 3D plants, extending the vegetation painting system and improving file export.
New pruning algorithms for vegetation painting, more export options
The update extends PlantFactory's vegetation painting system for modifying the shape of plant models manually, adding new "advanced pruning algorithms", shown in action in the image above.
There are also new geometry transition algorithms with "improved geometry continuity with highly distorted models" and support for displacement mapping on transtion zones.
Like the R3 updates to Vue, PlantFactory's sister product line, there are also a number of performance boosts, including faster geometry loading and previewing, and "improved gizmo manipulator interactions".
The update also adds new export options, including new optional wind application to exported geometry; and "improved Ptex" support. You can read a full list of changes via the link at the foot of this story.
Pricing and availability
PlantFactory 2016 R3 is available for 64-bit Windows XP+ and Mac OS X 10.6+. The base Artist edition costs $199, Designer costs $495, Studio costs $995, and Producer costs $1,995. See a feature comparion table.
Wind effects are only fully supported in the Producer and Studio editions of the software, while Ptex material export is supported only in the Producer edition.
e-on software has also released PlantFactory 2016 R3 PLE, a free learning edition based on the Producer edition of the software. It comes with a number of export and rendering restrictions you can find listed here.
Read more about the new features in PlantFactory 2016 R3 on e-on software's website
Tags: e-on, e-on software, geometry transition, new features, plant, plant creation, plant generation, PlantFactory, PlantFactory 2016, PlantFactory 2016 R3, price, pruning, Ptex, Release 3, vegetation, vegetation painting, wind animation