Monday, January 29th, 2018

Posted by Jim Thacker
e-on launches temporary website following cyber-attack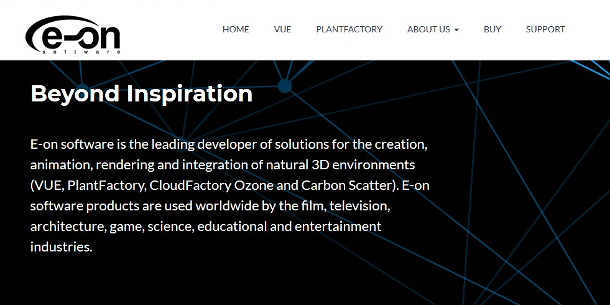 E-on software has launched a temporary company website following a cyber-attack last November that led to its original website being taken offline for a month.
The new site provides basic information about e-on's Vue and PlantFactory software, although at the time of posting, there is no way to buy either product directly online.
E-on says that online sales will return "over the coming months", as will Cornucopia3D, its online asset store.
'No evidence' that financial details have been compromised
According to a statement posted online, e-on learned of the attack in late November 2017, engaging "one of the world's leading cybersecurity companies to evaluate our systems and to identify remediation solutions".
It shut down its main server three weeks later, on 19 December 2017.
According to e-on, "criminals may have gained unauthorized access to e-on's servers for a period of time dating back to June 2013" including those storing names, addresses and other personal details of its users.
However, the company says that "there is no evidence that login passwords and sensitive financial information … were compromised as this data was protected by encryption and hashing".
We've contacted e-on to ask whether it has any security recommendations for users who think that they may be affected, and will update if we hear back.
Sales and tech support requests currently being processed manually
The new temporary site is intended to handle software purchases, downloads, activation requests and technical support, although at time of posting, all requests are being processed manually.
Buying a new licence of Vue or PlantFactory currently means filling out an online form with your contact details and asking e-on to call or email you back.
E-on says that requests are only being processed between 9am and 5pm each day, French local time, but that it aims to respond within 24 to 48 hours "in most cases".
Full online sales to return over the coming months
According to e-on, both its ecommerce site and Cornucopia3D will need rebuilding "from the ground up": a process it expects to continue through the coming months.
Cornucopia3D is expected to be the last service to come back online, although the firm is "exploring ways to allow our users to re-download content they have already purchased".

Read e-on software's full statement on the November 2017 cyber-attack