Sunday, November 30th, 2014

Posted by Jim Thacker
The best Black Friday and Cyber Monday discounts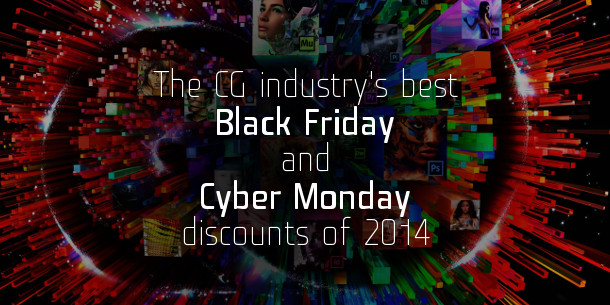 Each year, Black Friday drives retailers to discount their products to boost seasonal sales, and 2014 is no exception. Below, we've rounded up 15 of the best Black Friday deals – plus a couple for Cyber Monday, too.
The list below covers CG software, plugins and resource collections like models and HDRIs. We've only included offers provided by the developers themselves: check your local resellers for their own discounts.
The offers are in date order, so if you're reading this after Friday 28 November, scroll to the foot of the story!

Who: Adobe
What: Creative Cloud subscriptions
When: 28 November
Discount: Up to 68%
More information
Who: Corel
What: Painter 2015
When: 28 November
Discount: 42% – includes 50GB of online storage
More information
Who: Cornucopia3D
What: Stock models and 3D assets
When: 28 November
Discount: 50%
More information
Who: Evermotion
What: Stock architectural models and HDRIs
When: 28 November
Discount: 50%
More information
Who: Luxion
What: KeyShot
When: 28 November (Note: separate Cyber Monday promotion: check the KeyShot blog for details)
Discount: 30%
More information
Who: Smith Micro
What: Anime Studio Pro 10
When: 28 November
Discount: 66% – includes video tutorials worth $80
More information
Who: Ten24
What: 3D head and body scans
When: 28 November
Discount: 50% (via coupon code from link below)
More information
Who: Vizpark
What: Any product bundle (models, textures, HDRIs)
When: 28 November
Discount: 25%
More information
Who: Viz-People
What: Model and HDRI collections
When: 28 November
Discount: 50%
More information
Who: Lightmap
What: HDR Light Studio
When: 28-29 November
Discount: 33%
More information
Who: Reallusion
What: iClone '19 in 1′ combo pack
When: 28-30 November
Discount: 95%
More information
Who: Xfrog
What: Any Xfrog product
When: 28-30 November
Discount: 60%
More information
Who: Quixel
What: Quixel Suite
When: 28 November (but still running as of 30 November)
Discount: 50%
More information
Who: AXYZ design
What: Any purchase (Stock 3D characters, an(i)ma crowd animation software)
When: 28 November – 1 December
Discount: 25% (via coupon code from link below)
More information
Who: Boris FX
What: Any purchase
When: 28 November – 1 December
Discount: 30% (via coupon code from link below)
More information
Who: Cyber Radiance
What: Hair Farm 2 Professional
When: 28 November – 1 December
Discount: $300 off (via coupon code from link below)
More information
Who: Imagineer Systems
What: Mocha Pro 4.1 (including upgrades)
When: 28 November – 1 December
Discount: 30%
More information
Who: Laubwerk
What: 3D plant kits
When: 28 November – 1 December
Discount: €20 off, plus €15 RebusFarm voucher
More information
Who: Project Dogwaffle Team
What: Howler 9.5
When: 28 November – 1 December
Discount: Full software for the price of an upgrade
More information
Who: A&G Tool Co.
What: Any purchase over $50 (3ds Max add-ons, textures, HDRIs)
When: 1 December
Discount: 40% (via coupon code from link below)
More information
Who: ExLevel
What: GrowFX
When: Until 1 December
Discount: 50% (via coupon code from link below)
More information
Who: Illuminated Tools
What: Any HDR light probe
When: 1 December
Discount: 50% – use coupon code thanksies
More information
Who: Itoo Software
What: Forest Pack 4 and RailClone 2
When: Until 1 December
Discount: 25%
More information
Who: Motion Boutique
What: Newton 2
When: 1 December
Discount: 25% – use coupon code CYBER25N
More information
Who: Red Giant Software
What: Effects and transitions for editing and compositing software
When: 9 December (End of year, rather than Cyber Monday!)
Discount: 40%
More information
Who: Next Limit
What: Maxwell Render 3
When: Until 19 December (End of year, rather than Cyber Monday!)
Discount: 25%
More information
Who: Next Limit
What: RealFLow 2014
When: Until 19 December (End of year, rather than Cyber Monday!)
Discount: 25%
More information