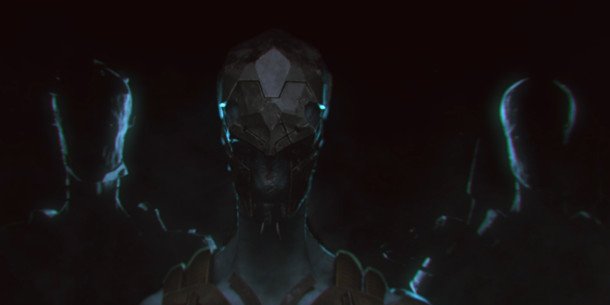 Blur Studio artist Santhosh Koneru discusses his award-winning short The Legion and ambitious new project The Vikings, and the sacrifices faced by young creatives keen to make the transition from VFX to directing.

Santhosh Koneru always knew he wanted to be a director, creating his first CG animation, award-winning science-fiction short The Legion, while he was still a student in Los Angeles.

Today, despite also working full time at international VFX firm Blur Studio – where his recent projects include the trailers for Far Cry 5 and LawBreakers – the young CG artist is hard at work on a new directorial project, The Vikings: a series of five interconnected cinematics, being created by a team of 20 volunteers.
We caught up with Santhosh to talk about his work, about his determination to make the move from visual effects to directing – and the personal sacrifices he has made in order to do so.

First steps into visual effects
Santhosh's first foray into directing was on The Legion (above), the award-winning one-minute cinematic he created while still a student at Hollywood's Gnomon – School of Visual Effects, Games and Animation.
Although Gnomon has a reputation as one of the CG industry's leading training institutions, Santhosh says that he applied to the school specifically in order to learn film-making.
"I knew I wanted to be a director, and the only way to do that was to learn what goes on in VFX," he says.
Enrolling on Gnomon's two-year generalist program, Santhosh was initially drawn to environment modelling but, mindful of his long-term goals, he later branched out into character work.
"Without a character, I don't think an environment is complete," he observes. "You can't tell a story with it."
While Santhosh initially created a conventional demo reel as part of his training, he felt that he also needed to create a showcase for his directorial work.
"My initial reel was completely focused on environments," he says. "It was good, but it didn't give me the confidence that I could do what I really wanted."
Instead, Santhosh embarked on a far more ambitious project. Rather than using the time set aside at the end of the course to polish his reel, he resolved to create an entire animated short.
"All of Gnomon's instructors are really helpful," he says. "I thought: 'If I have to try something big, if I do it while I'm still at school, at least I can get their help.'

The birth of The Legion
That 'something big' was The Legion: an atmospheric science-fiction piece that blended the atmosphere of movies like Prometheus with elements from classical mythology.
Completed over a 10-week period, the project tested Santhosh's production skills to their limits. Although he recruited seven of his classmates to help out – three concept designers, two additional modellers, and two FX artists – the bulk of the work fell to the young director.
In all, Santhosh was responsible for modelling the main character and the environments, texturing, rigging, animation, motion capture – you can see a clip from the shoot above – and sound mixing.
That schedule was made even more intensive by the fact that at the time, Santhosh was working at VFX facility Electric Theatre Collective three days a week as part of Gnomon's internship program.
"I'd finish work at 7pm, come to Gnomon at 8pm, then work on The Legion until midnight," he says. "The rest of the week, I'd work on The Legion 16 hours a day.
His hard work was soon rewarded: The Legion was awarded the Grand Prize at Gnomon's Best of Term awards: historically, often the springboard to international success.
Equally importantly, the short also helped land Santhosh the offer of a full-time job at Blur Studio.
One of Santhosh's recent projects for Blur Studio: a cinematic for Ubisoft's upcoming Far Cry 5.

From The Legion to The Vikings
Currently working remotely for the studio from his native India, Santhosh has now begun work on a new – and even more ambitious – personal project, The Vikings.
"It's like a prequel to The Legion," he says. "It's set in the same universe, but a different time period. It has four major characters, all of whom have to protect a celestial power that can change the balance between good and evil. One of the characters has the power to time-travel, so she's the one who bridges between Legion and all the other universes in the story."
Like The Legion, The Vikings blends science-fiction and world mythology.
"Growing up in India, I was exposed to a lot of mythological stories," says Santhosh. "I've also always been fascinated by science-fiction movies, so every idea I come up with has a blend of the two."
The project riffs on the idea of 'ancient aliens': that the beings considered gods by our ancestors might actually be extraterrestrial rather than divine.
"I wanted to give a rational explanation for why people do certain things in certain religions, by showing their gods as aliens or alien hybrids who protect them, as silent guardians," explains Santhosh.
Rather than a single short, The Vikings is planned as a series of five linked cinematics, the first four introducing the protagonists, and the fifth the main villain, culminating in a climactic battle.
"Initially, I thought of having cutscenes to show the characters, but that wouldn't do them justice, particularly since the final cinematic is so adrenaline-filled," he says.
"Having a standalone cinematic to introduce each character also enables the audience to pick their favourite. Then, when the final installment is released, they know who to root for."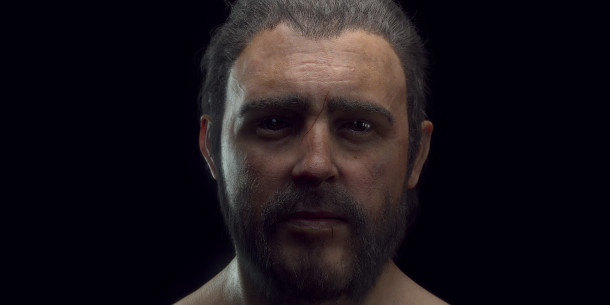 A character test render from The Vikings, Santhosh's latest personal project.

Building the production pipeline
For the project, Santhosh has recruited a team of 20 collaborators: mainly friends from Gnomon who now work professionally in the industry.
"We've got two concept artists, four modellers, who are also doing texturing and look development, and four FX artists," he says. "I'm doing all of the rigging and animation along with a buddy of mine, and I also created all of the previs."
Santhosh also established the production pipeline for the work, using a range of industry-standard tools: ZBrush for character and environment sculpting, Maya for UV mapping, rigging and animation, Substance Painter and Mari for texture painting, V-Ray for rendering, and Nuke for compositing.
As well as creating assets by hand, the team is also using photogrammetry tool PhotoScan to generate environment assets and character models, with five of the artists doubling as actors.
"That's been the main challenge of the project so far," says Santhosh. "Scanning faces is different from scanning rocks, and with standard camera rigs, we weren't getting the results we were looking for."
"We had to learn how the software calculates the data, how it generates a point cloud, and come up with a new process that worked."
An experimental, AR-assisted live shoot
Once the asset build for The Vikings is complete, Santhosh plans to hold a motion-capture shoot in Los Angeles to record final character animation data.
"One of my friends is a fight choreographer, so he'll be supervising the stunts and I'll be directing him," he says. "Since the final cinematic includes a war sequence with a lot of people fighting, I need someone who is familiar with how to handle weapons."
Santhosh plans to use down-resed versions of the production assets, running inside Unreal Engine, to provide a real-time preview of the motion capture. To display the data on set, he hopes to make use of an innovative new pipeline that takes advantage of new advances in augmented reality.
"I saw the new AR technology that Apple is introducing in its iPads, and it made me think about combining VR and AR for the shoot," he says.
"I'd like to be able to display the CG environment to each actor over a VR headset, then shoot the actor within that CG environment using my iPad. I've talked to some of my friends in the game industry, and they're going to come up with a working pipeline."
The shoot has already attracted industry support: on hearing that The Vikings is entirely self-funded, Motion Workshop offered the team a 50% discount on its Shadow mocap suits.
Ephere has also supplied free licences of Ornatrix, its hair-generation software, for the 3D work.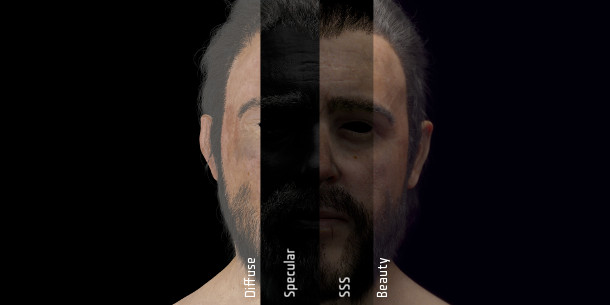 Render passes for The Vikings character. Left to right: diffuse, specular, subsurface scattering and beauty. Ornatrix developer Ephere has provided its hair-generation software for use on the project free of charge.

The Vikings: set for release by November 2018
Santhosh aims to complete the first cinematic within two months, then the remainder by November 2018. The shorts will be released on his Vimeo channel, and assets and breakdowns on a separate project website.
"I'm trying to use the project as a pitch for a movie, so I'm trying to get everything done technically as well as artistically," he says.
During the work, Santhosh has also been calling on the expertise of his colleagues at Blur.
"All of the in-house directors and supervisors are really helpful," he says. "I've been sending them all of my work on The Vikings project for critique, and acting on their feedback."
But working full-time for a leading visual effects facility while simultaneously trying to complete such an ambitious personal project has, once again, left Santhosh working some very unsociable hours.
"Since I'm working remotely from India, I usually go to bed around 8am, then wake up around midday," he says. "Luckily, I usually only sleep for four hours a day!"

Look out for The Vikings on Santhosh's Vimeo channel

Full disclosure: CG Channel is owned by Gnomon – School of Visual Effects, Games and Animation.
Tags: animated short, augemented reality, award-winning, CG artist, CG elite, CG short, cinematic, direction, Electric Theatre Collective, Far Cry 5, Gnomon, Gnomon - School of Visual Effects Games and Animation, interview, LawBreakers, making of, Mari, Maya, motion capture, Motion Workshop. Ephere, nuke, Ornatrix, PhotoScan, pipeline, profile, Santhosh Koneru, shadow, Substance Painter, The Legion, The Vikings, V-Ray, vfx, virtual reality, visual effects, workflow, ZBrush