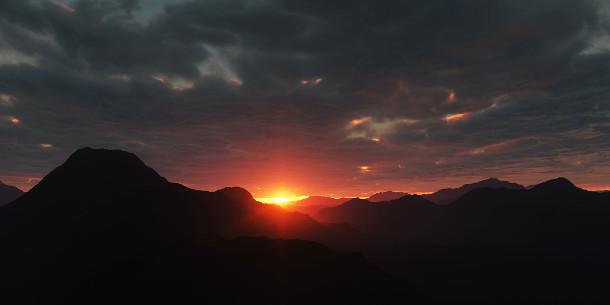 Planetside Software has released Terragen 4.1, the latest version of its landscape-generation software, improving cloud generation and rendering and adding support for 32-bit EXR output.
The update, on show at Siggraph 2017 next week, also improves the speed of previews and key shaders.
Generate clouds of better visual quality in less time
Terragen 4.1 makes a number of changes to the way clouds are rendered, including a new global Voxel scattering control that works independently of cloud layers' individual render parameters.
The others are quite specific, so check the online release notes for details, but the cumulative effect should be clouds that render to the same level of visual quality or better as in Terragen 4.0, in less time.
The Easy Cloud models added in version 4.0 – presets corresponding to real-world cloud types – also get support for masking to control the shape and placement of the resulting clouds.
Speed boosts to shading and render previews
There are also performance improvements in shading, with Planetside citing a 2.2x speed boost to the Voronoi functions and a 1.4-1.5x boost to the smooth Voronoi functions used by several shaders.
The interactive Ray-Traced Preview added in version 4.0 is also faster, and more efficient on machines with a large number of CPU cores, although Planetside doesn't quantify the speed boost.
Other new features: 32-bit EXR output, new Smoothing Filter Shader
Other changes include support for 32-bit EXR output, both when rendering and generating heightfields.
There is also an experimental new Smoothing Filter Shader, which causes upstream shaders to smooth away details at a specified scale. It only works "in a few specific cases", but will be extended in future releases.
The sampling systems used for GI and for atmospheric rendering have also been improved; and there are changes to anti-aliasing during rendering, and new parameters for a number of shaders and lights.
As with the other feature sets, the changes are quite specific, but there are a lot of them, and they look to be designed to work in sync, so check out the release notes for full details.
Pricing and availability
Terragen 4.1 is available for 64-bit Windows 7+ and Mac OS X 10.8+. The update is free to existing users.
New licences of Terragen 4 Professional cost $699; Terragen 4 Creative, which has a restricted set of features and caps maximum output resolution, costs $349. See a feature comparison table here.

Read a full list of features in Terragen 4.1 in Planetside Software's online changelog
Read more about Terragen on Planetside Software's website
Tags: 32-bit, atmosphere, cloud generation, EXR, landscape generation, masking, new features, performance boost, Planetside Software, price, Ray-Traced Preview, rendering, shading, Siggraph 2017, Smoothing Filter Shader, speed, Terragen, Terragen 4.1