Thursday, October 15th, 2015

Posted by Jim Thacker
Autodesk acquires iDraw, rebrands it as Graphic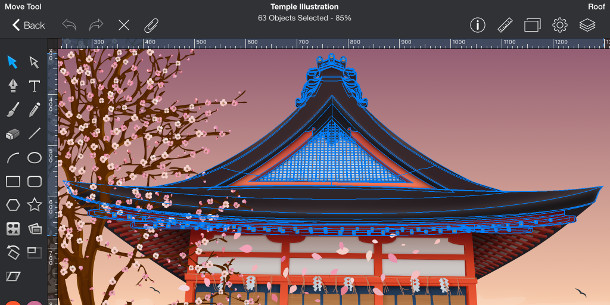 Autodesk has acquired Indeeo, developer of lightweight Mac and iOS vector drawing package iDraw, updated the software to version 3.0, and rebranded it Autodesk Graphic.
The acquisition was completed earlier this year, with little publicity at the time. To judge from forum threads, the first many users knew of the change of ownership was when app updated itself last week.
So what could iDraw already do?
The software includes a set of core tools for vector illustration, including geometric and freehand drawing tools.
It supports layers with layer opacity and blending modes; a background grid, snapping and object alignment options; and for technical illustration, customisable measurement units, plus automatic dimensioning.
Files can be imported and exported in a range of standard bitmap and vector formats, including PSD, AI, SVG and PDF, and can be moved between mobile and desktop versions of the software via iCloud.
The application is GPU-accelerated via OpenGL, promising "incredibly fast performance".
What's new in Graphic 3.0?
To that, Autodesk has now added pressure-sensitive drawing. Users with Wacom tablets or Apple Force Touch trackpads can now draw variable-width strokes without manually adjusting width settings.
There is also a new Transform toolbar, which groups together tools for transforming vector shapes or adjusting the spacing between them; and a new Adjust Colors panel, including colour balance controls.
Other changes include new Boolean options for subtracting or intersecting vector paths; new rotate and flip operations; and the option to preserve CMYK profiles when importing PDF or Photoshop PSD files.
The software is also now available for iPhones as well as iPads and desktop Macs.
Pricing and availability
Autodesk Graphic 3.0 is available now for iOS 8.0 or later, or 64-bit Mac OS X 10.6 or later. The iOS version costs $2.99; the OS X version costs $24.99. The update is free to registered users.
Read more about Graphic on the product's new website