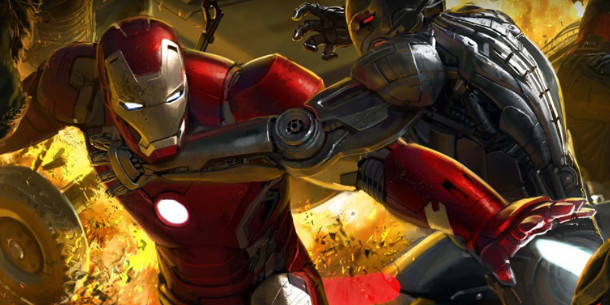 Originally posted on 2 August. Scroll down for details of the new livestreams.
Gnomon has announced Designing The Avengers: Age of Ultron, a free event exploring how Marvel Studios' team of concept artists and illustrators reassembled the comic-book heroes for this year's blockbuster movie.
Meet leading Marvel artists in person
During the event, which runs from 6-8pm on Saturday 8 August at Gnomon's Hollywood campus, some of the studio's leading artists will reveal their design secrets and share their experiences from the production.
Speakers include Marvel Studios head of visual development Ryan Meinerding, lead character concept artist Andy Park, senior illustrator Rodney Fuentebella and digital sculptor Josh Herman.
They will be joined by freelance concept designer Phil Saunders, and Marvel's former visual development co-lead Charlie Wen.
See more artwork in the accompanying gallery show
The presentations will be followed by the opening reception for The Cinematic Art of Marvel, a free exhibition at the neighbouring Gnomon Gallery.
The show, which runs until 23 September, includes concept art and designs from Avengers: Age of Ultron, Guardians of the Galaxy, Ant-Man and the Iron Man, Thor, and Captain America movies.
Free to attend, but register online in advance
Both Designing the Avengers and the gallery reception are free, but you will need to register in advance via the link below. Seats are available on a first-come-first-served basis.
Updated 7 August: Gnomon has just announced that Designing The Avengers: Age of Ultron will be livestreamed, so you can see it from anywhere in the world. You can watch the stream here.
Read more about Designing The Avengers: Age of Ultron on Gnomon's website
(Includes directions to the venue and the link to RSVP for the event)
Read more about The Cinematic Art of Marvel gallery exhibition
Full disclosure: CG Channel is owned by the Gnomon School of Visual Effects.
Tags: Andy Park, Ant-Man, captain america, character design, Charlie Wen, Concept Art, concept design, Designing The Avengers: Age of Ultron, event, free, Gnomon, Gnomon School of Visual Effects, Guardians of the Galaxy, illustration, iron man, Josh Herman, Marvel Studios, Phil Saunders, presentation, Rodney Fuentebella, Ryan Meinerding, talk, The Cinematic Art of Marvel, thor, Training