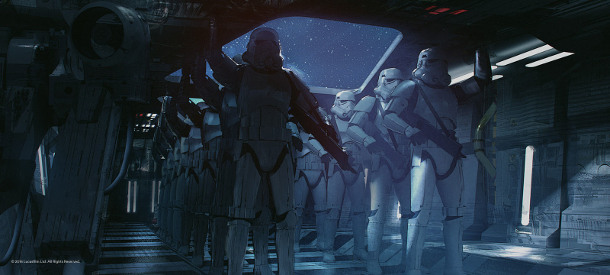 If you want an exclusive insight into how the latest Star Wars movie was created, you'd be well advised to book your place for next month's Designing Star Wars: The Force Awakens.
Held at Gnomon's Hollywood campus, the free four-hour event provides a rare chance to see Industrial Light & Magic art director James Clyne and leading concept artist Iain McCaig discuss their work on the movie.
A unique look behind the scenes of The Force Awakens
Over the course of an afternoon, the duo will reveal the art, architecture, films and pop culture that influenced to the designs of Star Wars: Episode VII, and provide insight into their workflows.
Visitors will be able to see how Clyne's set designs translated to set constructions on stage, and explore the personal sketchbook that Iain McCaig kept during the many, many meetings on the movie.
The pair's artwork from The Force Awakens will also be on show in a free exhibition at the neighbouring Gnomon Gallery, the opening reception for which follows immediately after the talk.
Free to attend, but register online before spaces fill up
Designing Star Wars: The Force Awakens takes place at Gnomon School of Visual Effects in Hollywood from 4-8pm on Saturday 14 May 2016. Since some of the material on show has not been released publicly, you'll need to be there in person: the event won't be broadcast on Gnomon's Livestream channel.
Entry is free, but places are likely to fill up fast, so you'll need to register online in advance.
The accompanying exhibition, Episode VII: The Art of James Clyne & Iain McCaig, will be on display at the Gnomon Gallery until 20 July. Entry is free from 9am to 6pm Mondays to Fridays.
Read more about Designing Star Wars: The Force Awakens
(Includes link to register online in advance, plus directions to the venue)
Tags: Designing Star Wars: The Force Awakens, Episode VII: The Art of James Clyne & Iain McCaig, event, exhibition, free, Gnomon, gnomon gallery, Gnomon School of Visual Effects, Iain McCaig, Industrial Light & Magic, James Clyne, Q&A, Star Wars: The Force Awakens, talk