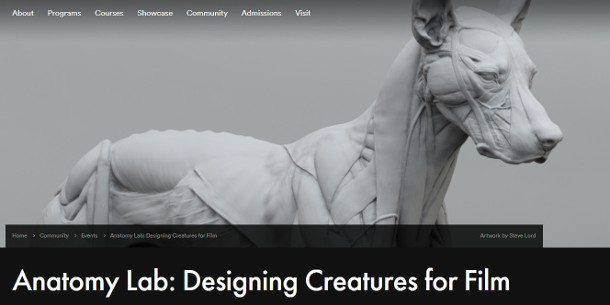 Gnomon School of Visual Effects has announced Anatomy Lab: Designing Creatures for Film – a free event at the school's Hollywood campus next Saturday, 25 July promising an afternoon of anatomy tips and tricks.
Practical advice from leading production artists
The event kicks off with a session on perfecting animal anatomy by sculptor Steve Lord, whose client list ranges from Rhythm & Hues and Oddworld Inhabitants to McFarlane Toys.
As well as core anatomical principles, Lord will show how to add second- and third-order details to a model.
In the second half of the afternoon, Avengers and Hunger Games concept artist Ian Joyner will discuss concepting for films, walking through the creation of a bird-like creature, including modeling plumage.
As in the first session, Joyner, a veteran of both Blur Studio and Legacy Effects, will discuss his personal techniques for adding the final details necessary to perfect the finish of a model.
Register for the live event, or watch the sessions online
Anatomy Lab runs from 12-4pm on 25 July. Entry is free, but you'll need to register online in advance, and seating is allocated on a first-come, first-served basis.
If you can't make it to Hollywood in person, Gnomon will also be livestreaming the entire event online.
Read more about Anatomy Lab: Designing Creatures for Film on Gnomon's website
(Includes link to register for the event, and directions to the venue)
Full disclosure: CG Channel is owned by the Gnomon School of Visual Effects.
Tags: anatomy, Anatomy Lab, Blur Studio, concept design, creature concept, Designing Creatures for Film, detailing, digital sculpting, event, free, Gnomon, Gnomon School of Visual Effects, Ian Lord, Legacy Effects, livestream, presentation, Steve Joyner, tips, Training