Tuesday, July 7th, 2015

Posted by Jim Thacker
Get 8 free mocap moves in Motek's StockMoves store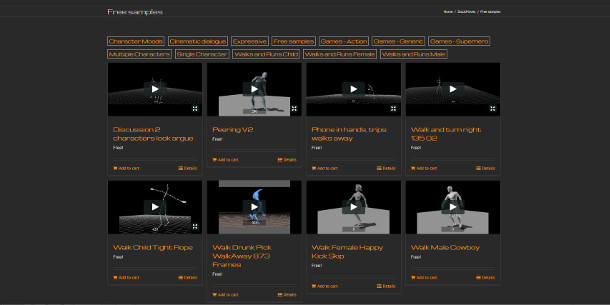 Dutch motion-capture specialist Motek Entertainment has launched StockMoves, a new online store for stock mocap data, including eight free sample moves of common actions.
The free moves, which currently include a range of walk cycles and an argument between two characters, are provided in FBX format, and are licensed for use in commercial work.
Motek tells us that it plans to update the free content regularly.
More commercial mocap content in the Motek's online store
The new StockMoves store also includes a range of commercial content. As well as walk cycles and common in-game actions, this includes multi-character interactions, dialogue and emotionally expressive movements.
According to Motek, the data was captured using high-end optical systems, with some libraries then retargeted to generic characters. Most individual moves are priced between $0.99 and $2.49, with discounts on collections.
Motek itself has worked on projects ranging from ads and animated features to live projection mapping. You may also know it through the work of mocap TD Jasper Brekelmans, developer of the Brekel Kinect tools.
Download the eight free mocap moves from Motek's new online store
(Registration required)