Originally posted on 27 February 2014. Scroll down for updates.
Vietnamese CG house Thunder Cloud Studio – aka artist Phung Dinh Dzung – has released GMH2 (Geo Maya Hair 2), a new script that enables Maya users to model hair as polygonal geometry, then convert to Maya Hair.
The hair can still be manipulated using standard poly editing tools even after conversion, and multiple GMH hair systems can be applied to a single poly object, enabling base form, waves and frizz to be edited separately.
Scenes created using GMH2 can be edited on machines without the script installed, and the output is compatible with V-Ray (including VRayHairMtl), mental ray and the Maya software renderer.
It's a workflow we can see appealing to less technically minded modellers, and the results in the demo images look good. GMH2 works with Maya 2013 and above, and costs $39.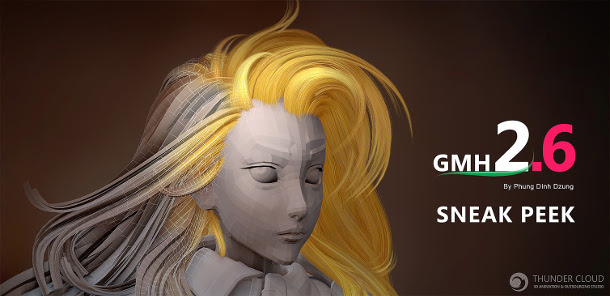 Updated 1 April 2015: Thunder Cloud Studio has posted a sneak peek at GMH2.6: a sizeable update to the script that will be released free to registered users.
New features include the option to bake hair to textures on polygon planes, a material manager for applying multiple shaders to hair geometry, and the option to export hair in OBJ or FBX format as curves or poly meshes.
Thunder Cloud is currently calling for beta testers: you can find the contact details here. GMH2.6 is expected to ship in late April or early May.
Read more about GMH2 on Thunder Cloud Studio's website
Tags: Featured Articles, geometry, GMH2, hair, Maya, modeling, polygon, price, script, simulation, Thunder Cloud Studio