Thursday, January 22nd, 2015

Posted by Jim Thacker
HDR Sets releases HDR Sets GUI 1.2 for free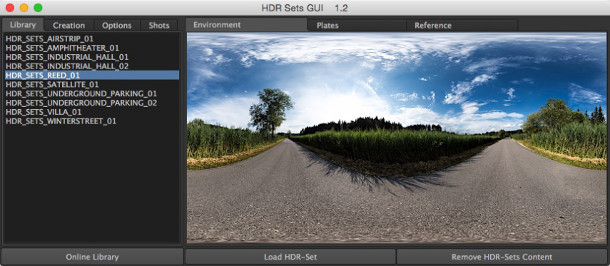 HDR Sets has released HDR Sets GUI 1.2, a new version of its free script for loading Smart IBL (sIBL) content in Maya and V-Ray, designed to speed up working with material that includes plates and matched 3D cameras.
The script helps users load HDRIs, 3D cameras and backplates into Maya, and automatically creates a lighting setup designed for rendering the scene in V-Ray.
New multi-shot setup system
New features in version 1.2 include a Shots tab, intended to enable users to set up specific render layers for each plate: for example, when placing a 3D asset into several camera perspectives within a single scene.
The lighting setup the script uses is now compatible with a wider range of scene dimensions; and there is now a new dome light for reflections, used to support the V-Ray Rectangular lights used for primary lighting.
The software has also been optimised for Maya 2015 and V-Ray 3.0.
Availability and free sIBL content
HDR Sets GUI 1.2 is available for Maya 2012 and higher and V-Ray for Maya 2.2 and higher, running on Windows, Linux or Mac OS X. The script is a free download.
Updated: Our original story referred readers to sample sIBL content available in HDR Labs' archive. The content is still available, but please read Christian Bloch's comment at the foot of this story before downloading.
Read more about HDR Sets GUI 1.2 on HDR Sets' website (Includes download link)